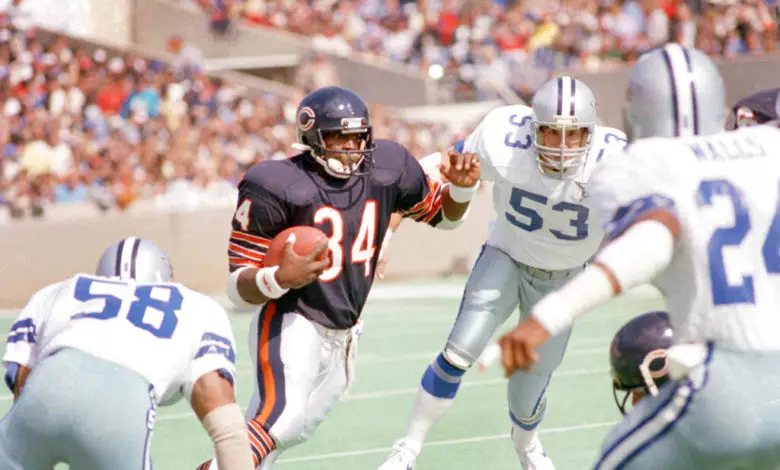 Walter Payton Named Second-Best HBCU Player of All-Time
If Walter Payton, who played college football at Jackson State, is the second-best HBCU player of all time, who is the first? I'll get to that in a little bit, as well as  Steve Wyche's entire list. Wyche, who works for the NFL Network, announced his top 10 players from historically black colleges and universities ahead of this weekend's inaugural 2022 HBCU Legacy Bowl. The college football all-star game is scheduled to kick off at 3 p.m. (CT) Saturday at Yulman Stadium on the Tulane University campus in New Orleans. It will be televised live on NFL Network.
"I've always said that the best thing that happened to me was going to a school like Jackson State," Payton wrote in his autobiography Never Die Easy. "I am really glad that it worked out that way, that schools such as Alabama or Mississippi State or Louisiana State didn't recruit me. Obviously, I do not support the reason why those schools wouldn't recruit me; the idea that they didn't want black kids to attend or play at their schools was reprehensible. They turned their back on so many great kids and great players. They really denied people the opportunities they deserved. But I needed a school like Jackson State to keep my feet planted."
Payton was drafted fourth overall by the Bears in 1975, and when he retired after the 1987 season, he was the NFL's all-time leading rusher with 16,726 yards. He currently ranks second on that list behind Cowboys great Emmit Smith (18,355). With the league's emphasis on passing offenses, it seems unlikely any running back will pass either of those two.
Walter Payton's "flu game" was one of the greatest displays of mental toughness that you'll ever see in all of sports. pic.twitter.com/d3bgVxhfhd

— Ross Enamait (@rosstraining) October 19, 2017
Payton spent his entire 13-year NFL career with the Bears from 1975-87, missing just one game and retiring as the league's all-time leading rusher with 16,726 yards. He was voted to nine Pro Bowls—second to Mike Singletary (10) in Bears history—set 27 team records, and had his No. 34 retired. Known for his durability and will to punish tacklers, Payton missed just one start in his entire career, that coming during his rookie year.
Wyche's list left off another retired Hall of Fame Bears player who is one of the game's greatest all-time defensive linemen – Richard Dent. An eighth-round pick out of Tennessee State, Dent retired with 137.5 sacks and held the team record for sacks in a single season that was broken earlier this year by Robert Quinn. Dent is ranked No. 10 all-time.
Current players on the Bears roster from HBCUs include running back Tarik Cohen (North Carolina A&T) and offensive lineman Lachavious Simmons (Tennessee State).
Payton was a force at Jackson State, rushing for 3,600 yards and a school-record 63 touchdowns. He was named Black College Player of the Year in each of his final two seasons. The only player that Wyche ranked ahead of Payton was Hall of Fame receiver Jerry Rice, who attended Mississippi Valley State and played in 21 NFL seasons for the 49ers, Raiders, and Seahawks. Though he paced Payton at No. 2, Wyche did call the Bears great his "favorite football player of all-time."
Here's his list, and the colleges each player in his top 10 attended:
WR Shanon Sharpe, Savannah State
LT Art Shell, The University of Maryland at Eastern Shore
RT Jackie Slater, Jackson State
QB Steve McNair, Alcorn State
QB Doug Williams, Grambling State University
CB Mel Blount, Southern University
DE David "Deacon" Jones, Mississippi Valley State
LB Willie Lanier, Alcorn State
RB Walter Payton, Jackson State
WR Jerry Rice, Mississippi Valley State
All of the players on the list have been enshrined in the NFL Hall of Fame except McNair and Williams.