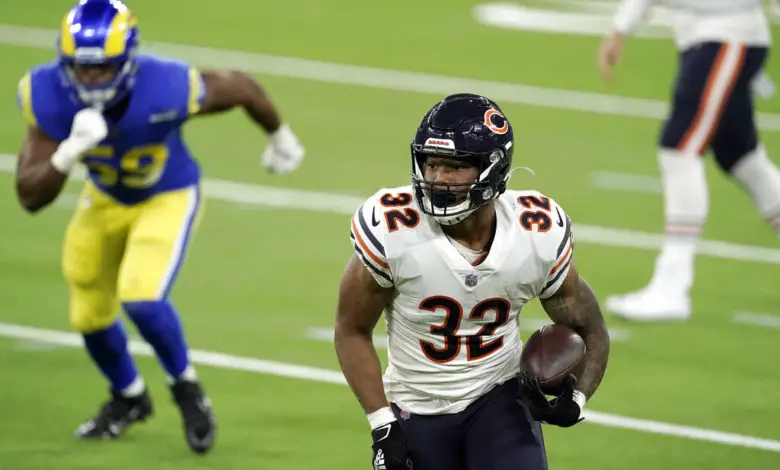 Surprisingly Enough, Allen Robinson Isn't Bears' Highest Graded Offensive Player
When looking at the contributions from Chicago Bears players on the offensive side of the ball, it would seem obvious who's contributed most. As the Bears' go-to receiver, you'd expect Allen Robinson to easily grade out as the best from among a group that doesn't have many standouts.
Sure enough, fans voted for Robinson as the Bears offensive player with the highest grade through eight games. He won by a wide margin in a Twitter poll from Pro Football Focus (PFF) that also included fellow receiver Darnell Mooney, running back David Montgomery, and tight end Jimmy Graham. But the fans were wrong.
According to PFF's grading system, Montgomery (80.5) just barely edged out Robinson (80.4). That's pretty surprising when you think about how anemic the Bears' running game has looked at times this season.
Highest-graded #Bears offensive players, halfway through the season:

David Montgomery: 80.5
Allen Robinson: 80.4 pic.twitter.com/VVnRHUFcWh

— PFF CHI Bears (@PFF_Bears) November 4, 2020
Robinson has an advantage on pass snaps with an 80.8 rating (15th among all WRs) compared to Montgomery's 70.1 (36th among RBs), but that's the only offensive category where Robinson has a lead. Mongomery is better in pass-blocking, run snaps (obviously), and run-blocking.
Montgomery is ranked as the seventh-best blocker among all NFL running backs, which, given the status of his offensive line, is a pretty big plus.
So while Robinson is the obvious choice for most valuable offensive player, it's important to keep in mind that contributions aren't just limited to rushing and receiving. Montgomery may not be putting up gaudy numbers in the more traditional stat lines, but he's done all the little things to help Robinson and the rest his teammates.
And if Montgomery is as important to the offense as PFF shows, just imagine how bad they'd be if he wasn't around. On second thought, let's not imagine that.