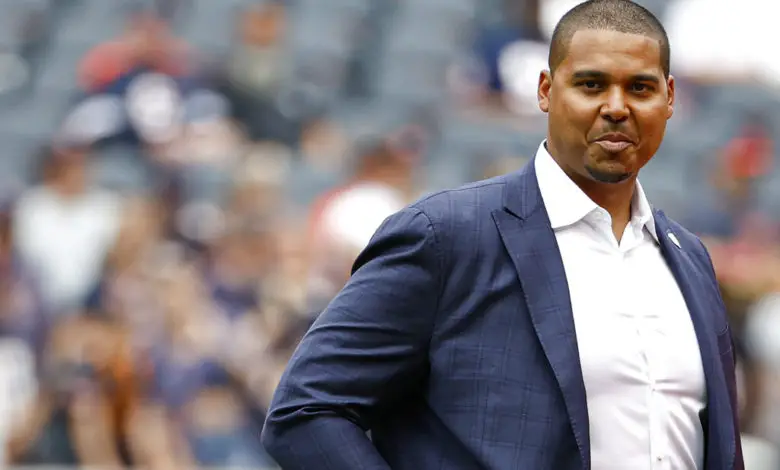 Post-Game Overreaction: Putting Bears' Offseason Plan Into Place
The Bears may have pulled off the best tank job in the history of professional sports. Rookie GM Ryan Poles now controls the draft board. Give Lovie Smith the assist, he could have gone for the tie against the Colts on Sunday and locked up the top spot of the 2023 draft. Smith went for the win, and Houston succeeded on its end-of-game two-point conversion, giving Chicago the league's worst record at 3-14 (.176).
ON 4TH AND 20… @HOUSTONTEXANS TOUCHDOWN! pic.twitter.com/POhLDaLMuL

— NFL (@NFL) January 8, 2023
The Bears already have their franchise quarterback in Justin Fields. Poles has approximately $122 million in cap space and could end up with more depending on the way he shapes his 2023-24 roster. Chicago also had the league's best rushing attack and went 1-7 in one-score games. When you add all of that up, Poles has a semi-competitive foundation with control of the draft and free agency going into the first full year of his rebuild. Trust me, he is the envy of every front office of every professional sport.
Smith is taking some shrapnel but I don't think Houston is planning on taking a quarterback at the top of the draft anyway. The Bears will probably trade down, so Smith will have his choice of Will Anderson Jr. or Jalen Carter when all is said and done. Houston also has the No. 12 selection and 13 total picks. They match up well with the Lions in a trade, especially if Kentucky quarterback Will Levis is available when Detroit is on the clock with the fifth pick.
The Bears do not need a quarterback, so they'll have plenty of options, and could even swing a trade with the Texans. Poles could also draft Carter or Anderson Jr., and try to pick up extra picks on Day 3. Once the GM makes his first selection he won't pick again until No. 55. How the front office fares in free agency will determine what Poles does on draft day.
What do the Bears need? The list is long and starts with both lines. Let's take a quick look, shall we?
Center
Lucas Patrick will probably be released, though the Bears could negotiate an extension with the 29-year-old that gives them more cap space. Rodney Hudson (Chiefs) is a three-time Pro Bowler but he'll be 34 next season. I like Bradley Bozeman a great deal, and he's only 28. Jason Kelce (Eagles) is another player Chicago could pursue.
Offensive Tackle
Orlando Brown will be mentioned a great deal in the next few months, but he won't be cheap. Brown reportedly turned down a six-year $139 million extension offer from the Chiefs. That offer included a $30.25 million signing bonus and $95 million paid during the first five years. Negotiations between Brown and the Chiefs are very similar to the ones between Poles and Roquan Smith earlier this year. At the very least, things are not trending in the right direction between Brown and Kansas City. That could lead to him actually hitting the open market in March rather than the team placing its franchise tag on its star left tackle.
Other options include Mike McGlinchey (49ers) and Matt Pryor (Colts). Riley Reiff performed well in the second half of the season and could be an option, too. Poles is more likely to address this position in the draft.
Guard
Dalton Risner (Broncos) is at the top of my wishlist. The former second-round pick out of Kansas State has started all 58 games he's appeared since entering the league in 2019. He's played both guard spots during that span and can also play right tackle.
The best guard in the draft is O'Cyrus Torrence (Florida) but he won't be a Bear unless Poles acquire multiple first-round selections, and even then it's a stretch. There will be a run on guards in the third round and any of Clark Barrington (BYU), Andrew Vorhees (USC), or Jerome Carvin (Tennessee) are decent options.
Defensive Tackle
This celebration was strong by Daron Payne. Gets to 10.5 sacks as a pending free agent DT. Signs himself a fat new contract. pic.twitter.com/i9gU5C3Irp

— Grant Paulsen (@granthpaulsen) January 2, 2023
If Poles and Matt Eberflus believe Carter is the answer, the Georgia standout will be the first pick in the draft. Daron Payne (Commanders) is the top option in free agency. He has performed as a Pro Bowl-caliber lineman for the better part of his five-year career and has 26 career sacks with 60 quarterback hits. If Poles can sign Payne, who should be his top target, he'll definitely trade down and address his weak offensive line and wide receiver room. Payne is only 25 years old and could be an anchor for at least half a decade.
Javon Hargrave (Eagles)  is another three-technique force that would make the Bears a lot better. He has 11 sacks this season. The Bears had 20 as a team. Justin Jones performed well at times this year but he's better suited to be a backup.
Wide Receiver
Darnell Mooney, Chase Claypool, and Velus Jones will all be back. Equanimeous St. Brown has already signed a one-year extension. N'Keal Harry will have an opportunity to make the team next year, too. That said, none of those players should be considered a true WR1. The top wideouts in this year's draft are Jordan Addison (USC), Quentin Johnston (TCU), and Jaxon Smith-Njigba (Ohio State), though none grade as a top 20 pick.
The free agent pool isn't very good, either, which is why Poles traded his second-round pick (No. 32 overall) for Claypool. Brandin Cooks wants out of Houston and would probably love to play with Fields. The Bears and Texans match up in a trade on a lot of levels, so keep an eye on Cooks. The Texans were seeking a pair of picks (second and fourth-rounders) for the nine-year veteran earlier this year, but he's going into a contract year now, so a 3rd or 4th-round pick might be enough.
Before you ask, Davante Adams will not be shopped by the Raiders. I will make a big Bears-Raiders prediction here, however. I believe Las Vegas will trade QB Derek Carr, and parlay the picks they get for him to make a trade with the Bears. The Raiders already own the Nos. 7 and 39 picks, so they're almost there. Poles would be able to address his offensive line at No. 7 with Peter Skoronski (Northwestern) or Paris Johnson (Ohio State), and then grab a wide receiver in the second round.
If you're looking for a top wide receiver in free agency, good luck. Allen Lazard (Packers), Jakobi Meyers (Patriots), and Byron Pringle (Bears) are your top three. Lazard is worth looking at, but I'll pass on the other two.
Running Back
I will break this to you as gently as I can. David Montgomery will probably not be returning. He deserves more money than Poles will want to pay him, full stop. In fact, he could end up with the Giants, who will need to replace Saquon Barkley, who could end up in Chicago. That's a stretch, admittedly. Otherwise, Khalil Herbert will ascend to the top of the depth chart. He's a highlight-reel back with an elite burst, but is he durable?
Barkley comes with question marks and he's going to want more money than Montgomery. Josh Jacobs (Raiders) could be an option, but Las Vegas is expected to retain him. The good news is that the running back tag is expected to come in at around $10 million. Poles didn't tag any players last season, so perhaps Monty will be his first. I'd like to see the fourth-year star get a payday a little more commensurate with his talent and character.
This is my own opinion, but I don't think Poles likes the franchise tag just because he's a former player. We'll see how it plays out after this year's Super Bowl.
Linebacker/EDGE
T.J. Edwards has shown all year he's an Elite MLB. He's always in the right spot and is great at getting off of blocks as seen here. PAY THiS MAN. #FlyEaglesFly #Eagles #PhiladelphiaEagles pic.twitter.com/HnWyXggiIv

— Clay Harbor (@clayharbs82) December 27, 2022
The combination of Nicholas Morrow, Matthew Adams, and Joe Thomas is not the answer. Jack Sanborn played at a Pro Bowl level until he was hurt and he'll return. He needs some polish, but he was all over the field this year and was Chicago's best tackler. The Bears started the season lacking depth at the position and did little to address that.
Smith will be a free agent but you can immediately cross him off the list. We already know that he and Poles can't agree on the linebacker's value. Yannick Ngakoue (Colts) is a free agent but I don't see a scenario where Indianapolis lets him walk. If they do, his market will be just as strong as Smith's. T.J. Edwards (Eagles) is a former UDFA from Wisconsin by way of Chicago's northern suburbs. He and Sanborn will be Chicago's anchors at the position next season. Yes, that's a prediction. The pair obviously have quite a bit in common.
Like Jalen Carter, if the Bears believe Will Anderson Jr. is the answer, he'll be the No. 1 selection come April. Myles Murphy (Clemson), Tyree Wilson (Texas Tech), Trenton Simpson (Clemson), BJ Olujati (LSU), and Isaiah Foskey (Notre Dame) are the best of the rest.
Coaching Carousel
The Bears aren't looking for a head coach, but it's fair to wonder if Alan Williams will be back in 2023. Chicago finished with 20 sacks, 14 interceptions, and nine fumble recoveries. That's pathetic for a defense predicated on hits and takeaways. Rookie DE Aidan Hutchinson of the Lions has 9.5 sacks, three picks, and two fumble recoveries by himself.
Granted, Williams doesn't have great personnel, and Poles traded his best two players at the deadline, plus Khalil Mack before the season started. That said, Trevis Gipson took a big step backward, Al-Quadin Muhammad barely had a pulse, and rookie Dominique Robinson was inconsistent. Williams deserves another year to make good, but the Bears cannot afford to waste another season figuring out how to stop NFL offenses. Opponents averaged 27.2 points per game against the Bears this year. That's the only reason why Chicago finished 3-14 overall and 1-7 in one-score games.