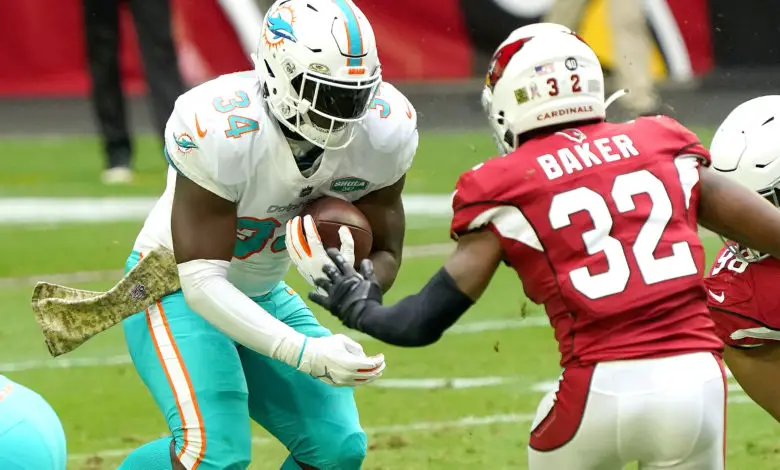 No, You Actually Don't Want Jordan Howard Back in a Bears Uniform
The Bears are without the top two running backs on their season-opening depth chart for Monday's matchup with the Vikings and may have to rely primarily on a combination of Ryan Nall and Cordarrelle Patterson in the backfield. Their other option is Lamar Miller, who has been on the practice squad for over a month as he works back from missing 2019 due to a torn ACL.
With Tarik Cohen out for the season and David Montgomery still in the concussion protocol, it's easy to understand why fans might get a little excited by seeing a familiar name hitting the waiver wire. As NFL Network's Ian Rapoport tweeted Monday afternoon, former Bears running back Jordan Howard has been released by the Dolphins.
The #Dolphins have released RB Jordan Howard, an intriguing name on the waiver wire.

— Ian Rapoport (@RapSheet) November 16, 2020
Howard averaged 1,123 yards per season and scored a total of 25 touchdowns over 47 games for Chicago from 2016-18. Health was perhaps his best attribute, as he played in every game starting with Week 2 of his rookie season. He then played in the first nine games last season after being traded to the Eagles for a 6th-round draft pick, but had to sit out the next six with a shoulder stinger.
After that uneventful season in Philly, Howard signed a two-year, $10 million deal with the Dolphins on the expectation that he'd be healthy enough to lead their rushing attack. While the shoulder hasn't been an issue, he was a healthy scratch three times in Miami and was hardly effective even when he was active. Don't let the four TDs fool you, dude has a total of 33 rushing yards on 28 carries and has hauled in just one reception for -3 yards.
Never known as a pass-catching threat, Howard had a total of 72 receptions on 108 targets for the Bears and found the end zone just once after a catch. For the sake of comparison, Montgomery has 55 receptions with two TDs on 76 targets over just 25 games for the Bears. Similar backs they are not.
Pro Football Focus gives Howard an overall grade of 41.4, ranking him ahead of only Qadree Ollison and his one carry among 127 halfbacks. To be fair, Howard's dragged down by a 26.6 receiving grade that puts him 346th in the league among all pass-catchers. His rushing score of 51.7 is better only by comparison, however, since he's still just 122nd in that category. Maybe he regains his form at some point, but it appears as though the Bears made the right move in flipping him when they did for a pick that became Darnell Mooney.
Even with the situation looking dire in the backfield, trying to run it back with Howard isn't something the Bears need to try.