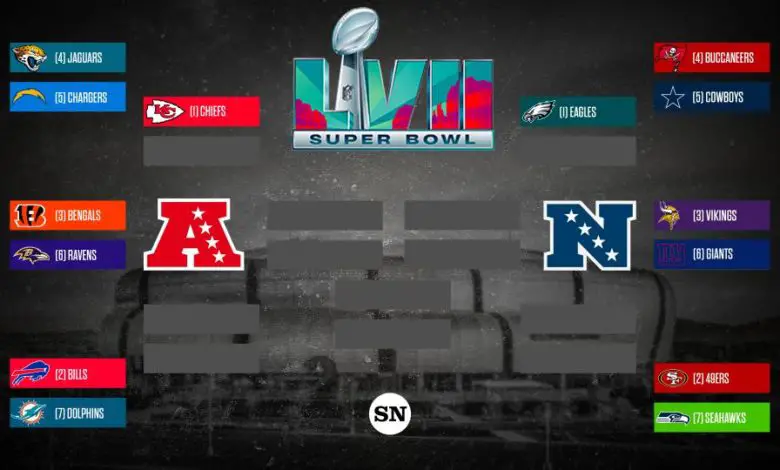 NFL Wildcard Weekend Preview
While Bears fans continue to prepare mock drafts and think about trade options with the number one pick in the 2023 NFL draft, 14 other teams are preparing for the playoffs. I thought I would briefly break down the six wild card games this weekend for those of you who can pull yourself away from Mel Kiper interviews.
7. Seahawks vs 2. 49ers Saturday, January 14 at 3:30pm CT on FOX:
The Seahawks (9-8) struggled down the stretch and just barely made the playoffs thanks to an overtime win over the Rams on the final week of the season. Quarterback Geno Smith was surprisingly effective taking over for the departed Russell Wilson in 2022.
The Niners (12-4) have won 10 consecutive games since acquiring star running back Christian McCaffrey from the Panthers and may be the best team in the NFC. They did not miss a beat when starting quarterback Jimmy Garoppolo broke his foot as third-stringer Brock Purdy has gone undefeated (7-0) in his place.
San Francisco are the clear favorites in this contest with an elite defense and explosive playmakers on offense. Seattle relies heavily on the run game and may find tough sledding against the 49ers defensive line. I'm predicting the Niners take home a 31-14 win.
5. Chargers vs 4. Jaguars Saturday, January 14 at 7:15pm CT on NBC:
Los Angeles (10-7) is the top ranked Wild Card team in the AFC and are road favorites in Jacksonville. Star quarterback Justin Herbert has big time targets in wide outs Keenan Allen and Mike Williams along with running back Austin Ekeler. Defensive and Joey Bosa keys a very talented defensive unit.
The Jaguars (9-8) won six of their last seven games to catapult themselves to the AFC South championship. Former number one pick QB Trevor Lawrence has drastically improved in his second NFL season to help spur his team to the playoffs. A young hard-working defense has also been a big factor in Jacksonville's late run.
This is a very even matchup but the Chargers are in a tougher division and Herbert is the better quarterback. The one variable is the status of Mike Williams who is out with a back injury. Even without Williams I think LA will come out on top by the score of 21-17.
7. Dolphins vs 2. Bills Sunday, January 15 at 12:00pm CT on CBS:
The Dolphins (9-8) looked like they were going to make the playoffs easily but then quarterback Tua Tagovailoa suffered his second (probably a third) concussion of the season and missed the last two regular season games and is out for the Wild Card. The combination of backups Teddy Bridgewater and Skylar Thompson have struggled to utilize weapons Jaylen Waddle and Tyreek Hill, however, an ugly win over the Jets was just barely enough to get them into the dance.
The Bills (13-3) have been on an emotional rollercoaster since safety Damar Hamlin almost died on the field two weeks ago. Thankfully, he is out of the hospital and Buffalo can focus on the much more trivial playoffs. Quarterback Josh Allen leads a dynamic offense and the defense can swarm opponents.
Miami would face an enormous test under even the best circumstances against an outstanding Bills team. Without their starting quarterback and facing an emotionally charged Buffalo team and fanbase? No chance, the home team rolls 35-7.
6. Giants vs 3. Vikings Sunday, January 15 at 3:30pm CT on FOX:
The Giants (9-7-1) shocked almost everyone this season by making a run to the playoffs under new coach Brian Daboll. Stud running back Saquon Barkley and scrambling quarterback Daniel Jones combined to have a big year on offense. Despite an inconsistent defense, New York was able to win enough to make the playoffs.
The Vikings (13-4) are truly a unique football team, winning 13 games and the NFC North while allowing three more points than they scored for the season. They accomplished this by going 11-0 in one-score games in 2022. QB Kirk Cousins and his All-Pro wide receiver Justin Jefferson were the main reasons Minnesota could boast so much close-game success.
The Vikings beat the Giants at home 27-24 in Week 16 on a 61-yard field goal from Greg Joseph. I think Minnesota's one-score good luck finally runs out this week and New York wins 23-21.
6. Ravens vs 3. Bengals Sunday, January 15 at 7:15pm CT on NBC:
The Ravens (10-7) have been struggling to score since former MVP quarterback Lamar Jackson went down with a knee injury. Baltimore's defense has been excellent and given their team a chance to win several low-scoring games down the stretch. Now backup Tyler Huntley is battling a shoulder injury and may also miss the game, leaving former Boston College quarterback Anthony Brown as the only option.
The North champion Bengals (12-4) are many people's dark-horse pick to return to the Super Bowl from the AFC. Quarterback Joe Burrow is having another huge year and he has plenty of weapons especially wide out Ja'Marr Chase. The defense can put together a tremendous pass rush especially when ahead.
Without Lamar Jackson it seems very difficult to imagine Baltimore winning this game. If they could keep scoring low maybe they could pull it out but I don't think so. Cincinnati will roll to a 28-14 victory on Sunday night.
5. Cowboys vs 4. Buccaneers Monday, January 16 at 7:15pm CT on ESPN:
The Cowboys (12-5) have been all over the place this season but mostly they have been winning. Micah Parsons and the defense have been very good for the most part. QB Dak Prescott has put up pretty good numbers but has been intercepted a lot this season, throwing 15 in just 12 games played. The running of Tony Pollard has also been huge for Dallas.
The Buccaneers (8-9) have a losing record but won the pathetic NFC South to get the fourth seed. Tom Brady has really struggled at times in 2022, though, he was able to lead just enough fourth quarter comebacks to earn a playoff spot. Tampa Bay's defense have been the real heroes, keeping the offense close enough to pull out late victories.
Dallas should absolutely win this game yet everything we know about Tom Brady and the recent history of the Cowboys screams upset. Doesn't it feel like we're going to see an exasperated Jerry Jones in a luxury box after Tampa takes home the win? Buccaneers pull the 20-16 upset.