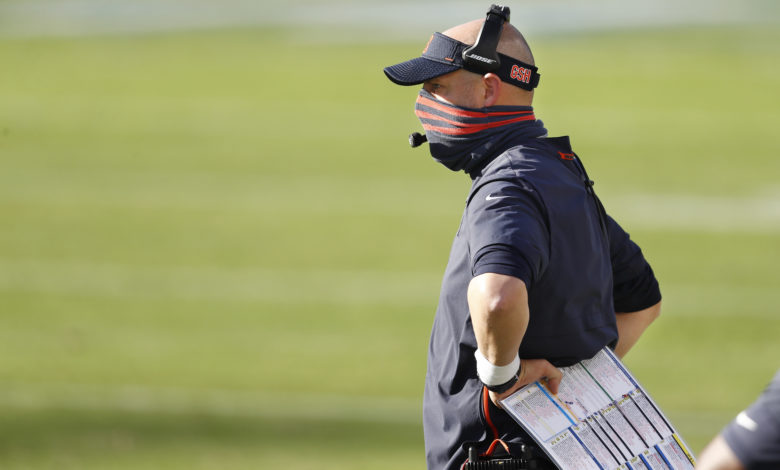 Might Be Time to Consider Blowing Bears Up, Starting Fresh
The Bears got out to an improbable 5-1 start, but have now lost three straight after they stopped winning while managing to keep all the ugly. Head coach Matt Nagy still doesn't seem to have a grasp of the offense, which somehow seems to have gotten worse. General manager Ryan Pace has proven to be an ineffective judge of offensive talent, they don't have a long-term solution at quarterback, and there's no way Allen Robinson would want to stick around at this point.
Barring a miraculous confluence of competence and good fortune, this team is heading nowhere fast and could very well end up mired in that no man's land just south of mediocrity. There's really nothing worse than ending up neither a playoff bid nor a top draft pick, not that the latter would make much of a difference after we've seen how they select players.
Before I get too down in the dumps and go full meatball, I should acknowledge that the offensive line was thinner on Sunday than the chances that more than 10 people read this. Between injuries and positive COVID-19 tests, it looked like something you'd see in a preseason game. Not great when your QB is only slightly sprier than Joe Biden jogging out to the stage.
Thing is, the injuries hardly matter when we've heard the same old story every week for at least the last two seasons. Nagy is perpetually perplexed by the lack of continuity on offense, whether it's calling the plays or having them executed. The Bears failed to score yet again in the 3rd quarter Sunday afternoon, marking the eighth time in nine games they have come out of halftime with zero momentum from adjustments.
The only time they have managed to put up points in the 3rd was back in Week 6 against the Panthers, and that came after a missed field goal gave them good field position. You almost have to try to achieve that kind of futility, especially when you've had two quarters during which to observe your opponents' tendencies and scheme around them during the break. That simply doesn't happen with the Bears, who somehow seem to get worse when given more time to gameplan.
And yet, the song remains the same. The coach doesn't know which levers to pull as he clings stubbornly to the same play-calling duties that were stripped from him in Kansas City. The GM is generally nowhere to be seen, which is probably for the best since he can't very well answer questions about why he's done nothing to address the Bears' very evident issues on the O-line, among other areas.
As reluctant as I typically am to go full scorched-earth and say something just needs to be razed, that's where I've gotten with the Bears at this point. Nothing I've seen over the last three years indicates to me that there is any real hope of a team that can achieve anything close to balance, and I fear the offense may actually continue to get worse. While I'd be shocked to see any big changes mid-season, particularly when they've still got a winning record, moving forward with this group is a recipe for disaster.
One last thought about all of this before I sign off: The Bears simply aren't fun to watch. Even their wins feel plodding and awkward, like they're just stumbling around and happened to fall bass-ackwards into a lucky break. But after using all of that luck through six weeks, all that's left is a cumbersome mess lacking any real hope for future success.
Now let's just hope we can all laugh at this hot take in a few weeks.