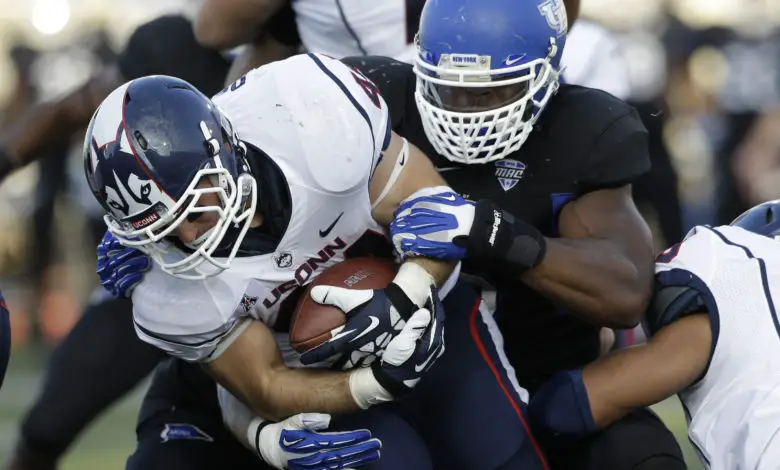 It's a Bird, It's a Plane, It's Khalil Mack (Video)
The legend of Khalil Mack started well before his entry into the NFL. Mack was a first-team All-MAC player three times while playing for the University of Buffalo Bulls, earning conference defensive player of the honors and being named a first-team All-American in 2013.
Playing against Ohio State in the 2013 season opener, Mack made quite an impression on former Ohio State OL Jack Mewhort.
"So ball gets snapped, I throw a cut block, and I'm looking and I'm like, 'Where is this guy?' Mewhort said. "I didn't feel anything. He had stepped back perfect, pushed me to the ground, gets that legendary interception and runs it back for a pick-six. I remember rolling over and looking at him and being like, 'Wait … he's like Superman.'"
MACtion Moments 💫

Buffalo's @FiftyDeuce stepped on the national scene in a big way vs. the Buckeyes. Mack finished the game with nine tackles (2.5 TFL's), 2.5 sacks and this pick six! The rest is history… 🤘@UBFootball | #MACtion pic.twitter.com/Gft5rPxMYy

— #MACtion (@MACSports) April 22, 2020
I'd say 'Superman' is a pretty accurate description.
You can read the full article on Mack at ESPN.com.