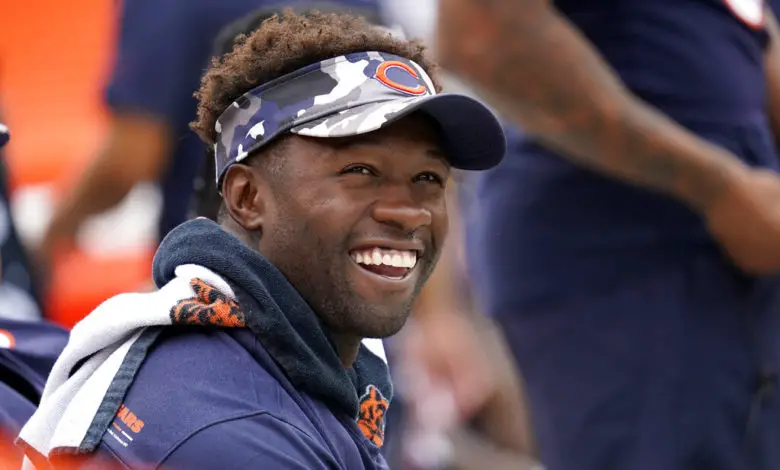 First & Long: Smith Returns to Practice, Jenkins Still Running With Ones, Brisker and Herbert Hurt, Brady Takes LOA
The good news this week is that Roquan Smith is back in camp. The bad news is that the All-Pro linebacker is still at odds with Chicago's front office after failing to reach an agreement on an extension.
"There are no more offers at this time, and I don't think there will be during the season," Smith said. "It's been an amazing four years and, hey, five, why not make it special? So, that's my plan. … My full intention is to play this season and whatever happens, happens. Whatever it is I have to go through this season, I'll do it chin up, chest out, sunsets, no regrets."
Getting Smith back on the field is a big win for Poles. The rookie general manager didn't flinch when his best player held out and stood his ground after Smith accused him of negotiating in bad faith. Now Poles has to earn the respect of a player that feels disrespected. Further, every player on his roster knows that there is no leverage in holding out or holding in. Poles will control the narrative in future contract negotiations and he'll stick to his number no matter the player. That is also an indicator of how he'll attack free agency.
Former Bear Matt Forte called the Bears "cheap" for not extending Smith.
"I respect him standing his ground and being like, 'Look, I need to get paid,' because you can get hurt any day," Forte told 670 the Score. "And if you get hurt and they cut you, then they just release you and be like, 'Well, you're injured. You're not the same guy anymore.' So, you have to use your leverage as a player. The Bears, are definitely cheap, and they give guys a hard time. I don't know, they pay a lot of guys who don't deserve the money, and sometimes the guys who do deserve it, they don't pay them."
Smith sought his own trade during the impasse, and the NFL was ready to take action against any team that negotiated with him. The league warned teams that contact with Smith, or a person claiming to represent the Pro Bowler, constituted tampering, according to NFL Media, and would warrant "more stringent discipline than … imposed in prior years."
Here's my final take(s) on the Roquan Smith situation:

1. Big win for Ryan Poles as a 1st year GM to stand his ground.

2. I still think Roquan gets paid if he plays at an elite level this year.

3. Roquan really needs an agent. #Bears

— Aaron Leming (@AaronLemingNFL) August 20, 2022
Smith is going to play at an All-Pro level and he has, too. He's basically in his walk year and he's going to want a long-term deal next season, whether it's with the Bears or another team. Allen Robinson phoned it in last season while in a similar situation, and it may have hurt him financially. A 3-year/$46.6 million deal is nothing to sneeze at. But, Smith wants to be paid as the top linebacker in the league, and he wants a five-year deal.
The negotiations between the two sides were often difficult and emotional. Smith called them "distasteful." Complicating matters is the fact that the linebacker doesn't have an agent and is representing himself. The best thing Smith can do to help himself is to hire an agent that is registered with the NFLPA.
As I said, the best news is that Smith is back in camp, and it looks like both sides are going to put the entire mess behind them.
Bears News & Notes
The Bears are now 2-0 in the preseason after their 27-11 win over the Seahawks on Thursday.
Fun fact: After falling behind the Chiefs 14-0 in their exhibition opener, Chicago scored 43 unanswered points over the two games. The bad news? Only three of those points were scored while the staring unit was on the field.
Teven Jenkins had an impressive game on Thursday. The second-year pro started at right guard and played 23 snaps after having just a few days of practicing at the position. Jenkins ran with the first team offense again in Saturday's practice and could be a surprise Week 1 starter over Riley Reiff. Analysts feel that Jenkins is Chicago's best offensive lineman – potentially – but needs to work on his emotions.
Rookie safety Jaquan Brisker was a hitting machine in that victory over the Chiefs. But he hurt his thumb, had surgery, and will likely miss the rest of camp. Head coach Matt Eberflus is hopeful Brisker can return in time for the season opener against the 49ers on September 11.
Running back Khalil Herbert was removed from the field on Saturday with an undisclosed injury. It's important to remember that David Montgomery has yet to take a snap in preseason play. If Herbert's injury is significant, Montgomery's backups will be rookie Trestan Ebner and former Titans running back Darrynton Evans.
You'll need a subscription to ESPN+ to access the content, but DE Robert Quinn is not projected to be among the top 20 of NFL's Top 50 sack leaders. Seth Walder predicts seven sacks for Quinn, good for No. 22 overall. Trevis Gipson was ranked No. 49 overall with 5.5 sacks. I'll take the over on both, please and thank you.
DT Larry Ogunjobi, who signed a one-year deal with the Steelers after failing his physical in Chicago, is expected the among the best of free agents who opted for one-year contracts.
Khyiris Tonga recorded an impressive pick-six in Saturday's practice. The second-year nose tackle for the Bears picked off fellow 2021 draft class teammate Justin Fields. Tonga's interception occurred during the 11-on-11 portion of Saturday's indoor practice.
Chicago needs to cut another five players at a minimum by Tuesday 5 PM. If I was making a prediction I'd say David Moore, Chris Finke, and Caleb Johnson could be among the team's cuts.
With second and third rounds of cuts coming up, the Bears could go on a late summer shopping spree. Chicago still needs depth at wide receiver, linebacker, and in their secondary. Another three-technique would be nice, too.
Eberflus indicated Saturday that Bears coaches weren't yet sure how much their starters might play against the Browns — if they play at all. Brisker's injury may cause some hesitancy by the first-year head coach. The two teams meet on August 27. It is Chicago's final exhibition game.
Safety Eddie Jackson believes the practice tempo has helped prepare them for the start of the regular season, and he also feels ready to go, whether he plays Saturday or not.
The Cleveland coaching staff has already indicated that their starters will play "some."
There's a Flag…On the Play
Ouch. Good thing the Bears had Jay Cutler and Caleb Hanie.
guy looks like he threw 27 INTs for the Chicago Bears in 2009 https://t.co/Abx0R6Ixao

— Alex Shephard (@alex_shephard) August 21, 2022
Northern Exposure
Green Bay: Not that it is breaking news or anything, but Aaron Rodgers is expected to make the Packers' final 53-man roster.
Detroit: The Lions are in an unusual position ahead of the 2022 NFL season. Detroit will not only be the featured team on HBO's "Hard Knocks" docuseries for the first time, but analysts are also unusually optimistic heading into coach Dan Campbell's second season.
Minnesota: Fullback C.J. Ham, who was a Pro Bowler in 2019, could be facing a roster cut on Tuesday. His position is no longer valued in the Vikings' new offensive scheme.
NFL News & Notes
Buccaneers QB Tom Brady is taking a leave of absence due to "personal reasons" and the team would not confirm if he will return for Tampa Bay's season opener.
One conspiracy making the rounds is that Brady is absent because he's filming an episode of "The Masked Singer."
Premium NFL wide receivers can be inexpensive despite what a player agent recently told ESPN.
On Saturday, fans brawled during the Jaguars' contest against the Steelers in preseason Week 2 action.
Retired Panthers' wide receiver Steve Smith said that QB Sam Darnold will "put you to sleep reading a book"  during the team's preseason broadcast against the Patriots on Friday night. Smith added ad that he prefers Baker Mayfield.
Panthers' third-round QB Matt Corral suffered a Lisfranc injury that will likely end his rookie campaign before it officially begins, per coach Matt Rhule.
Second-round rookie WR Tyquan Thornton left the game in the fourth quarter with a shoulder injury and did not return. NFL Media is reporting the Patriots rookie suffered a collarbone injury and is expected to miss around eight weeks.
After undergoing an appendectomy that forced him to miss three weeks, Bengals QB Joe Burrow was back participating in team drills Wednesday for the first time since the surgery.
This week marks the debut of Amazon Prime's Thursday Night Football telecasts. Amazon paid $1 billion dollars for exclusive rights. Al Michaels and Kirk Herbstreit will call Thursday's tilt between the 49ers and Texans.
Three Yards and a Cloud of Dust
Wide receiver Mike Evans is the only NFL player to start his career with eight straight seasons of 1,000+ receiving yards.
Last season, Julio Jones became the fastest WR to reach 13,000 receiving yards, in only 137 games. The next fastest was Jerry Rice in 154 games.
Since the NFL-AFL merger, Mitchell Trubisky is the only quarterback to go 50+ career starts without throwing a pick-six.
From the Podium
"We were super excited about that with him. He did individual today. He's in a ramp-up phase to get back to action. All along he's been conditioning with the strength staff on the side. He's doing good there, so now we're just ramping him up to play football. There's a process to that and we're in that process right now." – Eberflus
"I thought it was very distasteful, to say the least. I see myself at a number. They see me at a number. We couldn't agree. We can agree to disagree. I would never accept a bad deal. I would never accept a deal that I don't feel is what I'm worth. My number and their number were not the same." – Smith
Running out the Clock
I've had an incredible summer watching Grateful Dead tribute bands but nothing tops this by the Disco Biscuits from 2016.