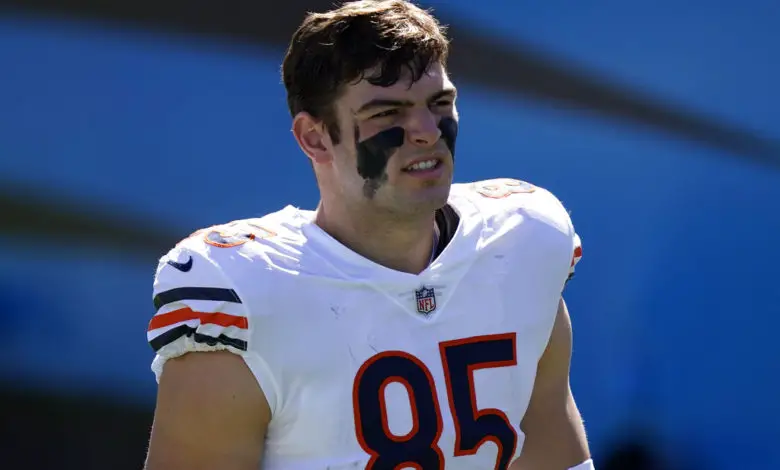 First & Long: Kmet Primed for Breakout Season, No Extension for Robinson, Brady Played Entire 2020 Season With Torn MCL
The tight end position is going to be an essential part of Matt Nagy's offense, so it's important that the position meets or exceeds his expectations this season. The Chicago Bears have lacked an impact tight end since trading Greg Olsen to Carolina in 2010. With new quarterbacks Andy Dalton and Justin Fields set to start the season at QB1 and 2, Cole Kmet and Jimmy Graham will play a big part in helping the coaching staff decide which QB gets the bulk of the playing time as the season progresses. In fact, the Bears may have the best tight end tandem in the league, provided the 35-year-old Graham doesn't lose a step with age.
Cole Kmet is primed to make a big leap this year. Evaluating TEs really starts in year 2, so Fields couldn't have joined #Bears at a more perfect time. 18 TD/0 INT on 30+ yard throws. Knows how to high-point feed big targets. Open up the playbook for Kmet and push the ball deep. pic.twitter.com/6tQJI2l2pp

— Flo Ottis (@flo_ottis) July 9, 2021
Kmet was the first TE taken in the 2020 draft and went from playing 20-30 snaps per game during the first half of the season to 55-65 snaps in the latter portion. The rookie finished the year with 28 catches for 243 yards and two touchdowns, with the bulk of that (20 catches) coming in Chicago's final five games. That late-season production translates to 68 catches over a 17-game season. To improve his game, Kmet spent the offseason working with All-Pros Travis Kelce and George Kittle and is primed to make the biggest leap forward of the team's 2020 draft picks.
The 6′ 6″ 262-pound end was targeted 44 times last season, and that number should increase significantly. He'll play the "Y" in Nagy's scheme and will therefore be an integral part of the Bears' running game. If Kmet has a knock, it's that he sometimes fails to generate separation from his defenders. Still, he had just two drops last season, catches the ball well in traffic, and is a beast once he turns upfield with the football. Half of his receptions resulted in a first down or a touchdown.
Barring any camp surprises, Kmet will be the starter this season, with Graham backing him up. There's a very good chance the pair will combine for 80-90 receptions or more. The two will ultimately be as productive as Dalton and Fields let them, and vice versa.
Bears News & Notes
There's a Flag…On the Play
If Nagy accomplishes one thing this season, let's hope he reverses this trend against Aaron Rodgers and the Packers. As usual, the division title goes through Green Bay.
In the Aaron Rodgers Era the Packers have swept the season series against the Chicago Bears eight times.

In that same time period the Bears have beaten the Packers only five times.

Which means the Packers have three more season sweeps than the Bears have total wins.

Good lord. pic.twitter.com/s5gYNvL23N

— PackersHistory.com (@PackersHistory1) July 13, 2021
Northern Exposure
There is a "growing sense" that Rodgers will return to play for the Packers this season.
That said, ESPN's Adam Schefter still believes Rodgers has taken his last snap for Green Bay.
Retired Vikings guard Steve Hutchinson believes that Minnesota would have won the Super Bowl in 2009 had they been able to defeat the Saints in the NFC Championship game.
New Lions' running back Jamaal Williams has been impressed with Detroit's first-year coaching staff.
WynnBET, the online gaming division of Wynn Resorts Ltd., has signed a partnership agreement with the Lions, their first NFL affiliation.
NFL News & Notes
Five players besides Robinson were saddled with a franchise tag. The other tags went to Jaguars tackle Cam Robinson, Saints safety Marcus Williams, Washington guard Brandon Scherff, and Jets safety Marcus Maye.
Tom Brady reportedly played all of last season with a torn MCL, which makes his Super Bowl victory that much more impressive.
The Washington Football team and the Colts, Cardinals, and Chargers had the four lowest COVID-19 vaccination rates in the league as of Thursday. All are below 50%.
"Lift Every Voice and Sing," the song considered to be the Black National Anthem, will be played before every NFL game this season per Roger Goodell.
The Raiders want to start seeing a return on their investment in Jon Gruden.
Effective immediately, Giants' running back Saquon Barkley will only accept endorsement money in Bitcoin. It's unclear whether other players will follow in Barkley's footsteps.
Three Yards and a Cloud of Dust
The Bears top three tight ends of all time.
Mike Ditka – He helped give the tight end position a rebirth in the 1960s by transitioning the role from a blocking to a receiving one.
Greg Olsen – No tight end has matched Olsen's production from 2007-10, though Kmet offers hope the Bears have finally found an offensive weapon at the position.
Desmond Clark – In 2006 Clark helped the Bears get back to the Super Bowl with a productive season that included 46 receptions for 626 yards and six TDs.
Power Sweep
Ryan Pace is batting an unfathomable .800 in the fifth round of the draft since coming to the Bears. He's hit on FS Adrian Amos, RB Jordan Howard, DT Bilal Nichols, and DB Tashaun Gipson. This year's choice was OT Larry Borom from Missouri, who was given a third-round grade by Chicago's scouts. Pace's only miss so far has been OL Jordan Morgan.
OTs allowing a QB pressure on less than 1% of pass-blocking snaps:
🔺 Brady Christensen, BYU
🔺 Alijah Vera-Tucker, USC
🔺 Larry Borom, Missouri
🔺 Max Mitchell, Louisiana pic.twitter.com/VakIVklkpa

— PFF College (@PFF_College) December 14, 2020
From the Podium
"Right now, after being a year in the offense and kind of understanding what coach Nagy and (offensive coordinator Bill) Lazor are doing with this offense, I'm a lot more comfortable with it. I'm stronger. I feel like I'm quicker and faster right now. Just a lot of confidence going in with the offense and in myself." – Cole Kmet
"At the end of the day, it's out of my control. Right now, I'm just focusing on things I can control — coming back, being the best player I can be, and trying to help the offense continue to improve. That's the main focus for me." – Allen Robinson
"The time is now. We know that, and we're looking forward to it. You can't live in the past. That's not what we're gonna do. I refuse to allow that to happen. This is a new season, and so we've got a fresh start. Let's see what we can do with it." – Matt Nagy
Two-Point Conversion
Expect Kmet to have a breakout season this year.