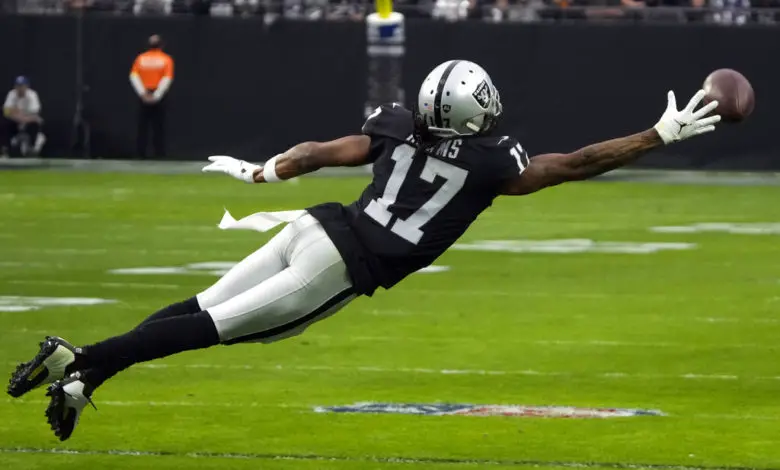 First & Long: Davante Adams Fun to Think About but Somewhat Unrealistic, Eberflus Wants Bears to be Spoilers, T.O. Looking for Work
The Raiders are benching quarterback Derek Carr and now Bears fans are pining for Davante Adams. The rumor is that Chicago and Las Vegas would swap first-rounders with Adams as the bait. The Raiders would then use Chicago's top-two draft pick to take quarterback Bryce Young of Alabama or CJ Stroud of Ohio State.
I don't see it happening. Granted, I have less than one full year of analyzing Ryan Poles as the basis for my opinion, but the rookie GM doesn't seem very inclined to fish in deeper waters. I know he has $120 million or more of cap space at his disposal, but does Poles really want Adams' contract and the $31 million cap hit it's towing? I'm guessing the executive would instead build through the draft, and if he trades his pick, he's going to want multiple selections in return. The Bears have just one of the first 56 selections next April.
Still, Adams is the alpha-dog receiver that Chicago needs. The only problem is, the Bears need several playmakers at numerous key positions. Justin Jones and Dominique Robinson are the only defensive linemen worth keeping. The team's offensive line needs a lot more beef, and outside of Darnell Mooney, which receivers do the Bears keep?
If Adams were a free agent, I'd be all on board with making a competitive offer. But he's the highest-paid wide receiver in the game, prefers to play on the West Coast, and who says the Raiders will trade him anyway? Don't forget, Lamar Jackson will be a free agent next year, and what's to stop Las Vegas from courting him? Trading their best pass catcher won't attract Jackson or any other quarterback to the Raiders.
It's too bad the Bears aren't better equipped to swing a deal for Adams. Even if they were, history works against the team, too. Brandon Marshall was the top receiver in the NFL when Chicago acquired him in 2012. The Bears regressed in each of his seasons with the team, though it's okay to fault Marc Trestman. Those teams were deficient in a lot of areas, too, though not nearly as bad as the current squad.
It just doesn't make a lot of sense to me, though I willingly admit it's fun to think about Justin Fields throwing to an All-Pro who makes getting 100 yards a Sunday routine. I hope Poles resists the urge to attack such a deal if one becomes available. The Bears shouldn't shift gears this early in their rebuild. If you need a litmus test, ask yourself one question. Would former GM Ryan Pace make that deal? If your answer is yes, reverse course.
Bears News & Notes
There's a Flag…On the Play
Yet people forget that Las Vegas also added Bilal Nichols.
The Raiders were a playoff team last year and added Davante Adams. Josh McDaniels needs to go. https://t.co/YaamdxYNgS

— Tom Ignudo (@TomIgnudo) December 28, 2022
Scout Team
Film Room
Tom Thayer loves the potential of Velus Jones.
That V12 speed ⚡️ pic.twitter.com/AnCJgkG7Is

— Chicago Bears (@ChicagoBears) December 27, 2022
Northern Exposure
NFL News & Notes
The NFL said it is going to start cracking down on the use of electronic devices during games.
Terrell Owens, who is 49 years old, apparently called Cowboys owner and defacto GM Jerry Jones requesting a tryout.
T.O. is reportedly in "game day shape" and regularly runs a 4.5 40-yard dash.
The Broncos are a shitshow and have fired rookie head coach Nathaniel Hackett because they can't fire Russell Wilson.
Russell said that he was "devastated" about Hackett's firing and added that he wished he "would have played better."
The Bills-Bengals tilt this weekend will have an enormous impact on the AFC playoff picture.
One NFL insider believes Sean Payton will return to coach the Saints next season and that he'll be bringing Tom Brady with him.
The NFL destroyed the NBA in Christmas Day television ratings.
Dolphins QB Tua Tagovailoa has another concussion and the NFL and NFLPA have launched an investigation.
J.J. Watt announced he will retire after this season due to concussions.
Khalil Mack hosts extravagant team dinners each week before Chargers games.
Three Yards and a Cloud of Dust
The

49ers

have not allowed a player to reach 60 rushing yards in a game this season.

Alex Highsmith is one of nine NFL players who have recorded 11+ sacks this season. He's also the only one of that group not to get elected to this year's Pro Bowl.
The Ravens have only allowed 13.3 points per game since trading for Roquan Smith.
From the Podium
"We want to improve. We want to see where we are. These last two games matter. They're division opponents to us, and very important to our football team to see the competition, to see guys compete against our division. I would see value in that because we have to learn how to finish. (Saturday against the Bills) … it was the fourth quarter, eight minutes to go, and it was 21-13, right? We got the ball and we've got to learn how to finish." – Eberflus
"They're getting close to really understanding how to finish the game and you finish with game-defining execution. That's what you finish with. You finish in those moments that the plays when they matter in the fourth quarter, we execute. And to me, these next two games are just about that. Being able to execute in those game-defining moments, those plays that matter, and getting it done. And to me, that's important going forward to the future." – Eberflus
"Velus [Jones], he's fast, and I'm glad he finally got to use his speed. You saw that safety attach and the corner tried to fall off, I kind of put it outside and he did a great job going to get that ball. Of course, that was a great catch." – Fields
Running Out the Clock
Good things lie ahead for the Bears once we get past these final two contests.