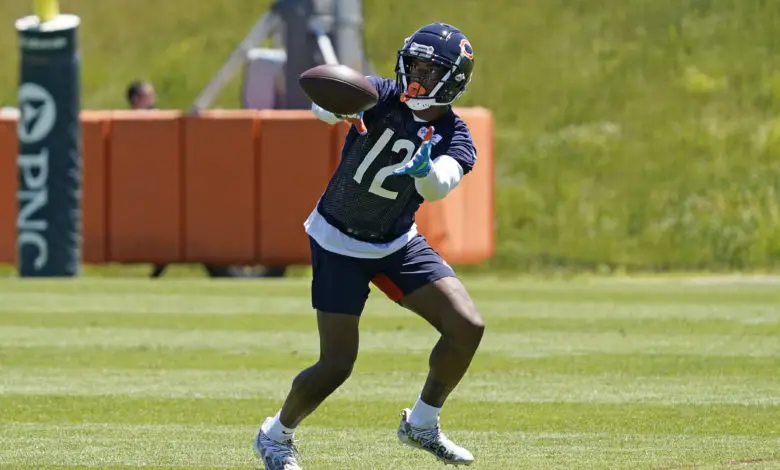 First & Long: Bears Enter Offseason Home Stretch, A-Rob Unlikely to Sign By July 15 Deadline, Goldman Working Out, Rodgers Still Contemplating Options
The Bears will start training camp in 17 days, and though most of the talk this offseason has centered on the quarterback situation, the players and coaches will head to Halas Hall with more than a few questions that need to be answered. Matt Nagy has his deepest roster since he was named head coach in 2018, but there are significant gaps in the starting lineup, particularly in the defensive backfield and on the offensive and defensive lines.
The strength of the Bears will be their running game, at tight end, where Cole Kmet will ascend to a starting role ahead of Jimmy Graham, and at placekicker, where Cairo Santos was the find of the decade. The O-line should be improved, especially with second-round pick Teven Jenkins set to play left tackle. Nagy won't admit there is a quarterback controversy, though Andy Dalton may feel more than just a little pressure if first-round pick Justin Fields has a strong camp. The Bears will also have to decide what to do with current third-stringer Nick Foles.
Chicago Bears quarterback Andy Dalton posted a video on his Instagram training with wide receiver Darnell Mooney. pic.twitter.com/lSxSa6p4A2

— Daniel Greenberg (@ChiSportUpdates) July 10, 2021
Chicago will alternate home and away games all season thanks to a weird scheduling quirk. Don't forget there are 17 games this season, and the Bears start their season on the road against the Rams on September 12 and will close out the regular season on January 9, 2022, with a road game against the Vikings. The imbalanced and reasonably unfriendly schedule means the Bears will have one extra away game this season.
Then there is the matter of the team's coaching staff. Though rumors swirled through most of last season that Nagy and/or GM Ryan Pace could be in jeopardy of losing their jobs, both received a vote of confidence from the organization's executive team and a shot to redeem themselves this season.
To Pace's credit, a very strong draft may provide him with some extra job security no matter how the Bears fare this year. One would assume the same goes for Nagy, but Pace will make that call with input from team president Ted Phillips after the final game if the Monsters of the Midway stumble again this season.
Rookies to watch when camp kicks off at the end of the month include Fields, Jenkins, Larry Borom, and Thomas Graham Jr. As far as the veterans are concerned, Tarik Cohen will be returning from an injury, and wide receiver is the only position where the Bears could actually use a little depth. Chicago will need a rebound season from Anthony Miller, and hopefully, rookie Dazz Newsome will add some much-needed production at WR4.
In free agency, the Bears signed linebackers Jeremiah Attaochu and Christian Jones, DL Angelo Blackson, WR Marquise Goodwin, RB Damien Williams, OL Elijah Wilkinson, and DB Desmond Trufant in addition to Dalton.
Bears News & Notes
There's a Flag…On the Play
Oh heck, no.
David Montgomery doesn't like being ranked as the 25th best RB 👀

— NFL Stats (@NFL_Stats) June 30, 2021
Northern Exposure
Packers' signal-caller Aaron Rodgers said he still needs a few more weeks "to figure things out." This storyline has taken on all the drama of a Gossip Girls episode. Or this.
The Lions' QB room is "pumped" that Melissa Gonzalez, wife of second-stringer David Blough, will be heading to the Olympics. Gonzalez qualified to represent Colombia in the 400-meter hurdles.
This could be a make-or-break season for Vikings QB Kirk Cousins.
Minnesota has been ranked as the No. 22 travel destination in the NFL, and if you've ever been to a Vikings home game you'll understand why. Green Bay was ranked second overall, Chicago is tenth, and Detroit is near the bottom at No. 29.
NFL News & Notes
Of the NFL's 32 teams, only 12 have a real shot to hoist the Lombardi Trophy next February.
Von Miller said that if Rodgers becomes available, the Broncos have the right front office staff to get a deal done.
Kansas City WR Tyreek Hill is still fuming over the Chiefs' loss to the Buccaneers in the last Super Bowl.
This obscure Patrick Mahomes stat will leave you laughing.
Bengals QB Joe Burrow holds the distinction of being one of the most trolled NFL players on social media.
Kyler Murray and DeAndre Hopkins of the Cardinals were given an ESPY for Best Play of the Year in what has been dubbed the "Hail Murray."
David Bakhtiari has been sort of an unofficial, beer-chugging mascot for the Milwaukee Bucks, and now his dad has joined him in firing up the crowds at Fiserv Arena during the NBA Finals.
Three Yards and a Cloud of Dust
Raven's QB Lamar Jackson has eight career 100-yard rushing games. Michael Vick holds the record with 10.
Including the past Super Bowl, Tom Brady holds the NFL record of 83 touchdown passes in 45 career playoff games. Rodgers and Joe Montana are tied for second place with 45 dimes.
We are now just nine Sundays away from the start of the Bears season. As Cubs' president of baseball operations mentioned this week, "life comes at you pretty fast."
Backfield in Motion
The 2021 season will feature a transition from Dalton to Fields at some point (I've got my money on week two, second half), and the Bears are going to need a big season from David Montgomery if they hope to contend for a playoff spot.
Can David Montgomery sustain his 2020 late-season success?

✍️ @Ihartitz https://t.co/ugZES6OVYy

— PFF (@PFF) July 11, 2021
From the Podium
"[It's] just fun to play with [Kmet]. He's so fiery, so focused. I just enjoy being out there on the field and celebrating every win we have, if that's in the run game [or] if that's in the passing game. We just have a good time out there." – Jimmy Graham
Two-Point Conversion
Do we ever tire of watching special teams super stud Dever Hester doing his thing?