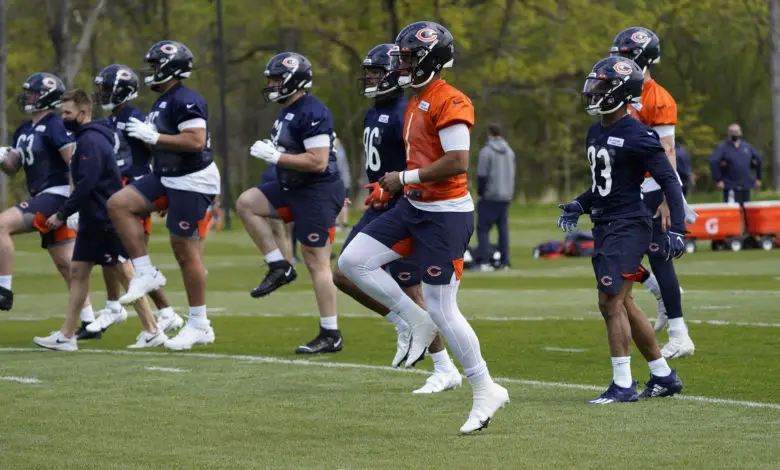 First & Long: Bears Camp Preview, Nagy's Commitment to Run Comes with Caveat, Rodgers and Packers Still Tenuous at Best
With training camp 10 days away, it's still difficult to get a read on just how good or bad the Bears will be in 2021. An exceptional draft that included first-round pick Justin Fields has Chicago fans excited, but has the organization done enough to slam the brakes on an offense that has steadily regressed since 2018 when the Bears finished 12-4?
What would be a fair over/under for "week in which Justin Fields first starts a game for the Bears"?

4.5?

— Computer Cowboy (@benbbaldwin) July 16, 2021
The biggest storylines of camp will affect the team beyond just this season, so let's get into it.
This is a make-or-break season for 43-year-old head coach Matt Nagy and he knows it. Despite a career-winning record, the Bears enter 2021 with 16 wins in their last 32 games over two seasons with an offense that has been unable to put together anything resembling consistency. The knock on Nagy is that he doesn't like to run the ball, and though he denies that accusation, his biggest weapons are running backs David Montgomery and Tarik Cohen.
In 2018 the Bears boasted the league's No. 9  scoring offense which deftly masked the fact they finished in the bottom third of the league in total offense. They've been unable to crack the top 20 in either metric since and if the Bears don't score and chew up yardage it leaves their defense vulnerable. Fields is armed with dual-threat ability, and for that reason, he could supplant projected starter Andy Dalton within the first few weeks of the regular season schedule, if not sooner. If the Bears underperform offensively this year, Nagy will be out as head coach come January.
Speaking of Fields, the battle between him and Dalton figures to be much more intense than Nagy is letting on. It usually doesn't take long for first-round quarterbacks to get in the lineup. Since 2011, 12 of the 32 passers chosen in round one of the draft started Opening Day, while 16 others saw significant playing time before the end of Week 4. Of the four who were held back, Jake Locker and Paxton Lynch can be considered busts, the jury is still out on Jordan Love — who is stuck behind Aaron Rodgers in Green Bay — and, well, Patrick Mahomes, who finally got some mop-up time as a starter in Week 17 of his rookie season, is now the game's highest-paid player.
Whoever sits behind center this season will likely target Allen Robinson more than any other wide receiver, but this will probably be Robinson's last year with the Bears. Chicago doesn't have another WR1 on the roster, and though Darnell Mooney was a pleasant surprise, he is a clear No. 2 and complimentary receiver only. He may see even fewer targets than last year with the emergence of TE Cole Kmet and, hopefully, greater reliance on the running game.
Halfway through last season, the Bears' patchwork offensive line was a true team weakness. The second half of the season was a completely different story. Ryan Pace selected standout tackles with two of his first three picks in this year's draft. Pace traded up in the second round to take Teven Jenkins at No. 39 and he'll likely open the season as the team's starting left tackle. In the 5th round, the Bears took Larry Borom, who was graded as a top-90 pick by the team's scouts. Most figured Borom would be a bit of a project, but there is reason to believe he can compete with Germain Ifedi and Elijah Wilkinson for starting right tackle. This kid was a dominant pass blocker in college and did not allow a single QB pressure in his final year.
Will Rodgers play for the Packers this season? If he leaves the NFC North, the division will be up for grabs, and the fallout of the veteran QB potentially leaving Green Bay could help keep Nagy in Chicago beyond this year.
It remains to be seen if the Bears' new offensive additions can push them into the top half of the league. Steady progress throughout the season could save Nagy's job even if Chicago fails to make the postseason. Anything resembling the last two years will likely mean a coaching staff overhaul to start 2022.
Bears News & Notes
There's a Flag…On the Play
This is certainly not an endorsement that Rodgers will report with the rest of his Packers teammates on July 28.
Asked Friday during a call on the team's finances whether Aaron Rodgers would report to camp, Pres. Mark Murphy answered: "I appreciate the question. This is really limited to questions regarding financial statements. I would just say there's nothing new to update on the issue."

— Adam Schefter (@AdamSchefter) July 17, 2021
Northern Exposure
Packers president Mark Murphy said the team suffered $38.8 million in COVID-related losses last season, the first time the team has not shown a profit in 20 years.
The Vikings and veteran QB Kirk Cousins are hurtling toward what looks to be a very messy divorce.
Now that the service has analyzed film going back to 1960, Pro Football Reference has credited retired defensive end Al Baker with 23 sacks in his rookie 1978 season with the Lions, making him the NFL's unofficial single-season sack leader, just ahead of Michael Strahan, who recorded 22.5 sacks in 2001. Strahan is still recognized as the official leader by the league.
NFL News & Notes
After it was revealed that Tom Brady played all of 2020 with a torn MCL, the league could fine the Buccaneers significantly if it is determined that Tampa Bay wilfully hid his injury.
Patriots defensive tackle Byron Cowart won't be rolling out the red carpet when Brady makes his much-anticipated return to New England in October.
T.J. Watt is looking for a contract extension with the Steelers and could receive more than any non-quarterback in the history of the league.
Free-agent NFL cornerback Richard Sherman was charged with five misdemeanors related to a domestic disturbance that occurred last week.
Free-agent running back Adrian Peterson said he "still feels young," and the 15-year veteran indicated that he hopes to play somewhere this season.
Former Rams receiver Isaac Bruce claims he and Torry Holt are the greatest pass-catching duo in the history of the league.
Despite COVID, NFL revenues were up last season and nearly hit $10 billion. With full-capacity crowds and an extra game for each team on this season's schedule, the league should have another record year.
Three Yards & a Cloud of Dust
With 102 catches for 1,250 yards in 2020, Robinson had the sixth-best season all-time for a Bears receiver. Here are the top three:
Brandon Marshall – In 2012, Marshall totaled 1,508 reception yards on 118 catches with 11 TDs. It was the best season of his career.
Alshon Jeffery – As a second-year player, Jeffery finished with 1,421 total yards on 89 catches with seven dimes. He and Marshall combined for 2,716 receiving yards that season. Maybe Jay Cutler wasn't that bad after all.
Marcus Robinson – It's a minor miracle that Robinson caught 84 passes for 1,400 yards and nine touchdowns in 1999 with Shane Matthews, Cade McNown, and Jim Miller quarterbacking that 6-10 team.
Post Pattern
Maybe Ted Phillips is the shark, which kind of changes the context of this tweet just a bit. Perhaps the Bears should just give A-Rob the contract he deserves.
I wanna go shark diving

— Allen Robinson II (@AllenRobinson) July 17, 2021
From the Podium
"My strength is I feel like I can pass protect with the best of them. And I'm a big body that can run off the ball. And one thing I'm gonna need to work on is just smaller, just little technique things regarding some things in the run game, maybe footwork here and there, hand placement, but other than that, I feel like I can pass block with the best of them." – Larry Borom
Two-Point Conversion
If you had to choose a non-championship tilt as the best Bears game ever, this 61-7 win over the Packers on December 7, 1980, should certainly make the team photo. Have a day, Vince Evans!