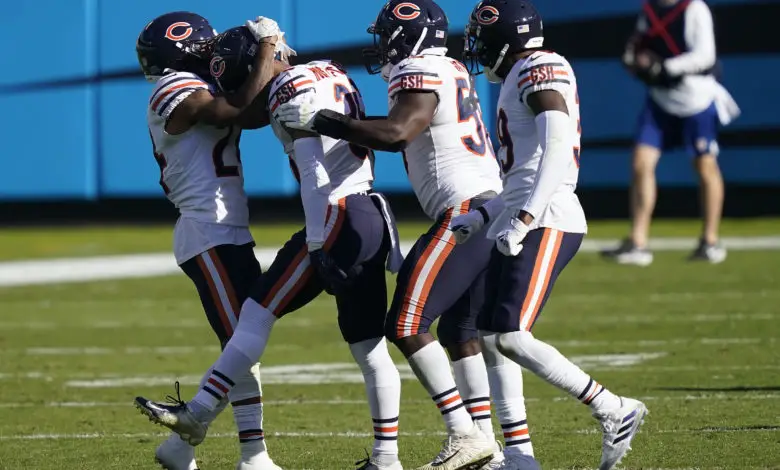 First & Long: Bears Beat Panthers to Take NFC North Lead, Defense Outstanding, Santos Has Nagy's Trust, Rodgers Benched in Packers Loss
Despite some sketchy late-game clock management by head coach Matt Nagy and an offense that continues to play like it's stuck in second gear, the Bears are unbelievably 5-1. Coupled with a Packers loss, yesterday's 23-16 win over the Panthers leaves the Bears undefeated in the NFC and leading the division. Tread cautiously with those Super Bowl hopes, but Chicago has to be considered a playoff contender just six games into the season. They're now 5-0 in conference games, though they've only played one divisional opponent, beating the Lions 27-23 in Week 1.
Matt Nagy has the lucky horseshoe lodged somewhere very special right now. His team keeps emerging with wins, while his coaching keeps revealing concerns. To be 5-1 is pretty damn cool though. Bears.

— M@ (@MattSpiegel670) October 18, 2020
The Bears' lone loss this season came against the Colts on October 4 in a game played at Soldier Field.
Perhaps it's just the magic (or luck) of Nick Foles, but the Bears don't seem to have a go-to formula that's responsible for their success. Their defense is workmanlike and bailed out the team's offense numerous times yesterday. Foles and company did just enough to get the job done.
Chicago's offense was limited to just 261 total yards, but converted half of their 14 third-down chances. The passing attack was nothing spectacular, as Foles completed 23 of 39 passes for 198 yards with one TD, one interception, and a 70.2 passer rating. The quarterback's minuscule 5.1 yards per pass attempt won't win many games, but it was adequate enough yesterday. The ground game, led by David Montgomery, wasn't much better. The second-year running back averaged just 3.1 yards per carry on 19 rushes for a total of 58 yards.
Foles' postgame comments were focused on his team's offensive output.
"We can improve,'' he said. "I think that's exciting. If we were winning these games and playing perfect and (the games) were this tight…what do you do? Where do you improve?''
You don't have to love the Bears, but no matter how they got to 5-1 there's no denying that they're a first-place team. For now, anyway. With upcoming games against the Rams, Saints, Titans, and Packers, we can hold off on playoff talk for now. Should they come out of that sequence of games with a 7-3 record or better, it's safe to assume fans can start dreaming about an NFC North title and a playoff berth.
Bears News & Notes
Forward Progress
The Bears (5-1) will take on the Rams (4-1) next week in Los Angeles on ESPN's Monday Night Football. Entering yesterday's games, the Rams, led by defensive tackle Aaron Donald, were first in the NFL with 20 sacks. Linebacker Khalil Mack leads the Bears with 4.5 sacks.
The Bears close their 2020 schedule with five of their last seven games against NFC North rivals. They'll play the Packers on November 9 and January 3 (home), the Vikings on November 16 (home) and December 20, and the Lions on December 6 (home).
Third & Long
In the third round of the 1979 draft, the Bears passed on Joe Montana, who was the consensus pick among future GM Jerry Vainisi and scouting director Bill Tobin, in order to select RB Willie McClendon, who was preferred by then-GM Jim Finks. The 49ers chose Montana 16 picks later. The Bears had selected defensive linemen Dan Hampton and Al Harris in the first round and WR Rickey Watts in the second. Finks believed Montana would be available for the Bears to select in the fourth round.
#12 on our list of Career Rushing Leaders is Willie McClendon (2,228yds)! McClendon's 1,312yds and 13 TDs on the ground in 1978 were both school records, but those records would only last until 1980! #DGD #UGAVault #GoDawgs

See more of #RBU @ https://t.co/zNCSsOHKVn pic.twitter.com/szgnnYnJrO

— UGA Vault (@UGAVault) June 15, 2018
Pick Six
Breaking down Sunday's best performances.
Fumblerooski
Packers QB Aaron Rodgers had a forgettable game against the Bucs yesterday, but he did have one winning moment after celebrating a would-be touchdown. Rodgers was eventually removed from the Packers' lopsided 38-10 loss to Tampa Bay (4-2).
Rodgers also earned the dubious honor of having one of the worst performances of the day.
Backfield in Motion
Foles is like a tall glass of ice-cold whole milk, with a little bit of cream floating on top. The Eagles, of course, were continually blasting the Meek Mill classic en route to their Super Bowl win over the Patriots in 2017 with Big Game Nick as their QB.
Nick Foles said the Bears were blasting Meek Mill's "Dreams and Nightmares" in the locker room: "I might've gotten up and danced a little bit. I'm more like country, maybe some Christian rap. But Meek comes on with that song, I get rolling."

— Chris Emma (@CEmma670) October 18, 2020
At The Podium
"I would first say would you rather lose pretty or win ugly? I think that we'd rather win ugly. I think that's [a] common thing. I think it tells you a lot about our team. Is this who we are offensively? We want to improve, we want to get better, we want to have rhythm. If you can put up 50 points and lose a game, those 50 points don't mean anything." – Nick Foles
"From [Cairo Santos] being a kicker in Kansas City when I was there for those years… I always had a lot of confidence in him. Never once did I ever think about the kick being made or the kick being missed. I'll be honest with you: I'm really in that mode right now with him. I know that. That 55-yarder, it didn't shock me that he hit it." – Matt Nagy
Half-Time Entertainment
Backfield in Motion by Mel & Tim – Every Sunday my dad would spend the entire morning whistling this song ahead of kickoff. He wasn't a Bears fan, but he truly loved Gale Sayers and Walter Payton. He also loved Carl Garrett and I suppose we're all accountable for our sins on Judgment Day. In fairness, Garrett wasn't a bad RB, but, unfortunately, his two years with the Bears were sandwiched right between Sayers and Payton.