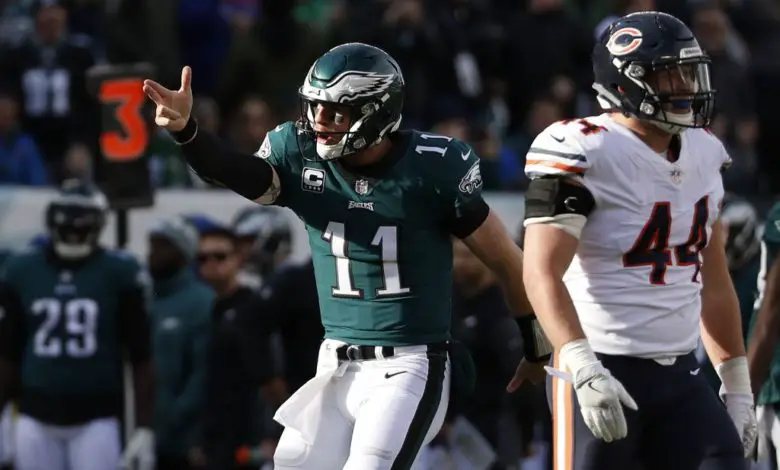 First and Long: Wentz Reportedly Prefers Colts, Bears May Move Up to Draft QB, LeBron James Considered NFL Career
Let me be brutally frank this morning: Carson Wentz is not the cure for what ails the Bears right now, and packaging one or more first round picks, plus additional pieces to acquire the Eagles beleaguered QB, could set the team back for years. As much as I would love to see the McCaskey's clean house, starting with Ted Phillips, trading for Wentz is too big a cost to make that happen.
Even worse, it's rumored Wentz would prefer to play for the Colts. That has to make Bears fans a little uneasy.
RE: Carson Wentz trade.

If Colts had best offer, it's likely a deal would be done at this point. Wentz's preference would be Indy, which would expedite agreement. Probable cause for delay.

If Colts' interest is mild, then there is little he could do to prevent trade to Bears.

— Jeff McLane (@Jeff_McLane) February 15, 2021
Because Ryan Pace is prone to player acquisition mistakes, particularly when it comes to finding a Pro Bowl-caliber quarterback, that's a helluva big red flag. If you want to see what a QB who really doesn't want to play for Chicago looks like, treat yourself to the 2020 film on Nick Foles. Considering the salary Wentz will earn, and the expected cost to acquire him from Philadelphia, at least one of the McCaskey's should shut off Pace's mobile phone. Let Wentz go to Indianapolis. It could be the best snub in the history of the franchise.
Convincing Bears Nation that Pace has no business dealing for Wentz is another thing. If the Eagles trade him to the Colts, half the city may lose its collective mind. Bears fans are so desperate for Chicago to acquire a franchise quarterback that they tend to ignore the team's other needs.
It's delusional to think that adding a potential (and I use the term loosely) all-pro signal caller to this roster would immediately place the Bears among the NFL's elite offenses. Their O-Line needs an upgrade, and if Allen Robinson leaves in free agency, Pace will be left without a legitimate No. 1 receiver, one starter in Darnell Mooney, and absolutely no depth at the position.  To make matters worse, Mooney has been mentioned as part of the package to acquire Wentz, as has linebacker Roquan Smith. There's no sense in going backwards in an attempt to move forward.
As much as I'd like to see Deshaun Watson in Chicago, he's no saviour either. Unlike other sports, NFL teams that tend to overpay in the trade market or overspend in free agency aren't among the league's best. It is imperative to build through the draft to create continuity and sustained success. Buying other teams' problems, no matter the type of capital surrendered, exchanges mild short term success for years of mediocrity. That the Bears have operated under that type of annual roster construction for 30 less-than-average years is all the proof you need.
Bears News & Notes
Apropos of Nothing
This obscene winter weather gere in the Midwest is almost as bad as this take by Snoop Dogg and Anna Kendrick on a couple holiday classics.
There's a Flag…On the Play
J.J. Watt was in Chicago over the weekend which launched some wild speculation. The Bears need a lot of things, but Watt, who is about three years past his prime, shouldn't be near the top of that list.
outdoor date night. @KealiaOhai pic.twitter.com/cvobM6Gsl6

— JJ Watt (@JJWatt) February 14, 2021
Northern Exposure
There are at least a dozen teams interested in Watt according to reports, but playing for his hometown Packers almost seems too perfect. Green Bay has a lot of salary cap slashing to do to make that happen, however.
Minnesota QB Kirk Cousins went from being in danger of losing his starting job to holding all the leverage regarding his future with the Vikings after tossing 24 dimes against just 3 INTs across his final 10 games.
The Lions have a lot of holes to fill to even think about competing in the NFC North, but their most glaring weaknesses are at wide receiver and on defense.
Matthew Stafford revealed that he has contacted new Lions quarterback Jared Goff about fan expectations in Detroit.
Three Yards and a Cloud of Dust
Watt is only the second player to have 100+ sacks and three Defensive Player of the Year awards. The other is Lawrence Taylor, who won the award as a rookie in 1981 when sacks weren't an official statistic.
Khalil Mack has recorded 30 sacks in three seasons with the Bears, the 10th most in the NFL during that span.
Tom Brady is 3–0 in the playoffs against Andy Reid, and is the only QB in

NFL

history with three postseason wins, including a Super Bowl victory, against one head coach.
NFL News & Notes
Three-time Pro-Bowl WR Vincent Jackson, who last played for the Buccaneers in 2016, was found dead yesterday at the Homewood Suites in Brandon, Florida, according to police. The death is under investigation by the Hillsborough County Sheriff's Office. Jackson was 38.
The Browns are also "loudly interested" in signing Watt.
O.J. Simpson believes the 49ers need to acquire Watson or Dallas QB Dak Prescott if they hope to contend next season. The "Juice" believes that Jimmy Garoppolo is not the answer.
Andy Dalton of the Cowboys has been named the NFL's worst quarterback.
Josh Edwards of CBS Sports offers his take on the top five best available draft picks at each offensive position.
Running back Adrian Peterson, who turns 36 next month, said that he envisions himself being "a 40-year-old back out there rushing for 1,500 yards and amazing people still." Peterson also reiterated his hopes of finally winning a Super Bowl and passing Emmitt Smith as the league's all-time rushing leader before his career is over.
Everytime I hear Smith mentioned I immediately flashback to Walter Payton.
The Steelers will play the Cowboys on August 5 in this year's Hall of Fame game.
Ineligible Man Downfield
NBA star LeBron James was interested in a tryout as a wide receiver with the Browns, Cowboys or Seahawks in 2011, and the future Hall of Famer believes he would have made a successful transition. "I'd have tried [out], but I would have made the team," James said. "I just know what I'm capable of doing on the football field. Especially at that age."
Backfield in Motion
If you're willing to sell out to get Wentz, why not package that bounty to move up in the draft and take Zach Wilson?
Zach Wilson is gonna be all sorts of fun in the NFL 🔥 @zachkapono1 @BYUfootball

(via @ESPNCFB) pic.twitter.com/4IRpWXwKhR

— The Checkdown (@thecheckdown) February 15, 2021
At the Podium
"I'm not a big car guy, so my analogies may not be great, but this is like a tuneup. We're going to refine some things and make sure our players are playing to their strengths on a consistent basis…we've got really good players. We've got a really good defense. There was some regression. And we're going to overcome that."– Sean Desai
Today's Halftime Entertainment
Informer by Snow – Admit it…you missed this song. I don't know if it's ever been investigated, but this has Milli Vanilli-level scandal written all over it, and you're welcome for the earworm.