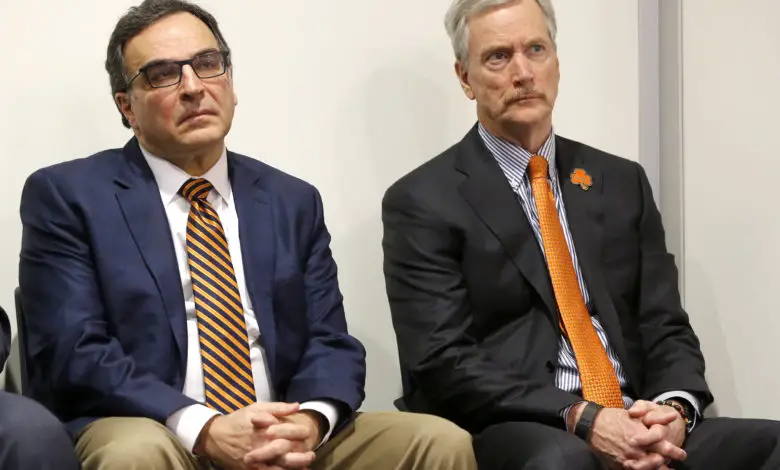 First and Long: McCaskey Sale Unlikely, Bears Seeking Upgrades at CB, Foles Reportedly Refused Trade to Eagles, Titans Hire Female Scout
How would you feel if Amazon founder and CEO Jeff Bezos owned the Bears? How about founder and retired CEO of AON Patrick Ryan? If you're like me, the answer is 'either,' as long as neither retains current Bears president and CEO Ted Phillips, am I right?
Though it's not likely to happen soon, it seems there is some discontent between some of the McCaskey family members about whether or not to press forward with any potential sale of the team. This is often a point of discussion between the older guard and the younger members of the family, and if the past is any indication, nothing will come of the rumors.
At 98, Virginia McCaskey seems very attuned to keeping the NFL's first franchise in the family. If anything, it's doubtful any real movement toward cashing in on the billion-dollar Bears won't come until after the team's matriarch has passed away, and then probably not until after a grieving period that includes a we're-gonna-win-one-for-Virginia shot at getting to and winning the Super Bowl, complete with arm patches and stirring speeches from George McCaskey on down.
Virginia and George McCaskey have both made it clear, time and time again, they have no intentions of selling the Bearshttps://t.co/129nQempbq

— Bears Talk (@NBCSBears) May 27, 2021
Believe it or not, there are now five generations of McCaskeys with a potential ownership stake in the organization, and as time goes on and the family continues to produce more heirs, the discord within the family should be expected to continue. In fact, it's probably safe to assume that no offer, no matter how large, will move the needle any closer to a sale, at least near-term. Wannabe owners have been after the franchise since George Halas died in 1983.
For a team that has bordered on mediocrity for the better part of 30 seasons, new ownership would be a shot in the arm to a loyal fanbase that would no doubt embrace such change. It's a cheap shot analogy, but the Bears are a Model-T trying to stay relevant in a Tesla generation. That will never change with Phillips and the McCaskeys running things.
The Bears are worth an estimated $3.53 billion, a tidy sum if that's what they sell for, and would represent quite the profit on the $100 Papa Bear paid to charter the franchise in 1920. That's also quite a bit in capital gains taxes, too. Just assume 20% of the entire $3.53 billion, for argument's sake, and that's roughly $700 million dollars, though plenty of factors may lessen or defer that amount.
In fact, the best way to avoid capital gains payments is to not do anything until after you die. From a tax perspective, passing the appreciated value to your heirs amounts to paying zero taxes and gives them the option of keeping or selling the team and worrying about IRS obligations. I don't suppose a savvy family member could find a way to use Phillips as the organization's profitability offset.
Bears News & Notes
There's a Flag…On the Play
Back before the organization paid a living wage to its on-field personnel, Staley the Bear had a summer gig as a bumper car driving instructor. I know…that's more than six words.
In six words or fewer, write a story about this photo. #sixwordstory #WritingCommunity pic.twitter.com/BI6h3XVYW4

— Agatha Chocolats (@AgathaChocolats) May 26, 2021
Northern Exposure
Assuming Aaron Rodgers plays for Green Bay this season, the Packers are the only team in the NFL with a quarterback, wide receiver, and running back in the top six in all three categories.
Led by star running back Dalvin Cook, six Vikings players made Pete Prisco's pre-season top 100 list.
Lions quarterback Jared Goff was impressive in his first on-field workouts with his new team.
NFL News & Notes
Though he's yet to take a single snap, Trevor Lawrence has been listed as one of the league's top QBs under the age of 25 in the latest from Colin Cowherd. The host of The Herd on Fox Sports called Lawrence a "once-in-a-lifetime talent."
Chiefs signal-caller Patrick Mahomes would love to see Rodgers traded to the Broncos and welcomes the potential rivalry.
Rams left tackle Andrew Whitworth turned his garage into an offseason fitness center for his teammates. "Most of the guys just call it 'The Dojo,' right now," Whitworth said Tuesday during a videoconference, adding, "Everybody's involved and invested in it and that's made it unique. It's created a really special bond between us."
Tom Brady is recovering from a knee injury so Buccaneers head coach Bruce Arians may employ his star player as a "coach" during the team's mini-camp.
The Titans have hired Mical Johnson as the team's first full-time female scout.
The last five times the Eagles finished in last place came in 1999, 2005, 2007, 2012, and 2016, and each time they followed it up with a playoff appearance the next year.
Although the belief is that the Jaguars signed Tim Tebow to play tight end, it turns out new head coach Urban Meyer might have even more planned for his former college quarterback. According to ESPN, the Jaguars coach might end up deploying Tebow the same way the Saints have used Taysom Hill.
After watching Tebow get signed, it appears Brandon Jacobs has decided that he also wants to make a comeback. Not only does the former Giants running back want to return to the NFL, but he wants to play defensive end.
Three Yards and a Cloud of Dust
Since being selected in the third round of the 2012 NFL Draft by Philadelphia, Foles has posted a 21-11 record with 58 touchdowns against 23 interceptions in 32 starts with the Eagles. He's posted a 7-16 record with 23 touchdowns and 20 interceptions in stops with the Rams, Chiefs, Jaguars, and Bears.
Rodgers, Drew Brees, Russell Wilson and Kirk Cousins are the only QBs with a 90.0 or higher passer rating in each of the last five seasons.
The Steelers are the only team in the NFL to have more than 300 total sacks (304) since 2015. The Rams are second at 264, which is an eight-sacks-per-year gap.
Backfield in Motion
Though the team still has a few too many ponderables, it's nice to see the Bears taking a media-forward approach toward hyping the upcoming season.
We're bringing training camp (and then some!) to YOU with #1920FootballDrive.@CDWCorp | 🐻⬇️

— Chicago Bears (@ChicagoBears) August 17, 2020
From the Podium
"[Cole Kmet] improved every week last year. The more you do something, the better you get at it. So the more reps he got, the better he got with just playing football—with his run blocking, his pass protection, his route running; knowing how to run certain routes versus man and versus zone, and things like that. The big thing for him moving forward is going to be taking the next step in that progression, and a lot of it is understanding pre-snap versus post-snap, how to adjust to things on the run." – Bears tight ends coach Clancy Barone
Two-Point Conversion
Today is Lou Gehrig Day in baseball and its annual fundraiser to support ALS. If you haven't heard, Bears great Steve McMichael was recently diagnosed with the debilitating disease, and our thoughts and prayers go out to Mongo and his family.
"What I used to be is the antithesis of what I am now," McMichael said recently. "This is a humbling thing, brother."
The defensive tackle was one of the leaders of the best defense in the NFL's modern era.