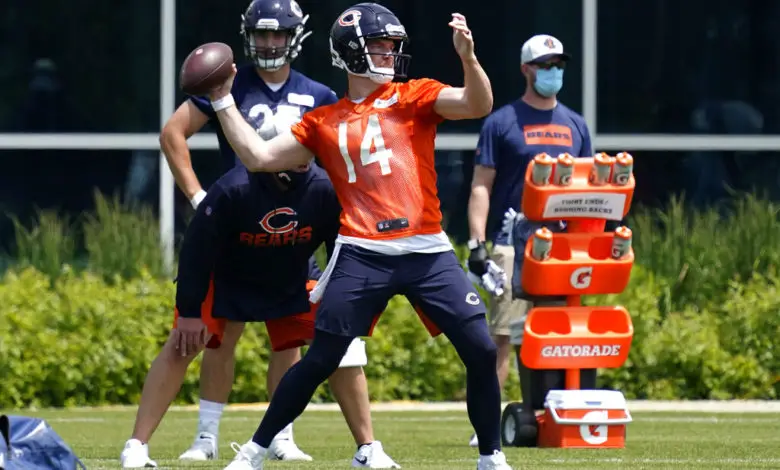 First and Long: Dalton Starting, Fields Number Two and Rising, Five Rookies Under Contract, Brady Admits He Lost Track of Downs
New Bears QB Andy Dalton has no regrets signing with the Bears, even after GM Ryan Pace traded up to grab rookie signal-caller Justin Fields. Having signed for just a single year, Dalton knew this was a short-term gig that would provide an opportunity to re-establish his value in free agency next summer. For Pace and head coach Matt Nagy, he provides valuable experience and a tutor of sorts for Fields.
"I knew the situation I was going into regardless of if they drafted [Fields] or didn't," Dalton said yesterday. "I was on a one-year deal and I was going to be the starter. So, my mindset didn't have to change. I already knew that I'm going to do everything I can to be the best player I can for this team and to help us win a lot of football games."
Hit the ground runnin'. 💥 pic.twitter.com/a5K9udMT9Z

— Chicago Bears (@ChicagoBears) June 2, 2021
Still, nobody believes that Pace navigated the draft with the aggressiveness he displayed just to become far more passive when it comes to the development of his rookie QB. Make no mistake, Fields will start this season, and possibly as soon as Week 5 if history is any indicator.
Dalton may believe Pace, though Coach Nagy publicly stated he is putting a plan in place on when to debut Fields. Don't forget, Nick Foles is still in the mix and was listed as the backup to Dalton until today.
"We are in a position right now where, with the three quarterbacks that we have, we know that we got to put a really good plan together for all three of those guys," the head coach said in early May. "We know what we have sitting in front of us with [Fields]. We gotta make sure that he has a successful entry plan but we don't know [yet] how that's gonna look."
None of that matters to Bears fans who believe Fields represents the future, and to most, that future should start immediately. The smart money says Fields will not be under center when the Bears play the Rams on September 12, but it's not something anybody should discount either. Pace and Nagy have no choice but to play the team that gives Chicago the best opportunity to win, even if that means acquiescing to or ignoring the wishes of the team's fanbase.
Bears News & Notes
There's a Flag…On the Play
If it looks like hypocrisy and smells like hypocrisy it just might be… on brand for the NFL.
The more I learn about the NFL, the more I hate it. https://t.co/kZSavQdACE

— Saeed, Or The Other One (@theferocity) June 2, 2021
Northern Exposure
The Packers start their mandatory veteran minicamp on June 8, and head coach Matt Lafleur is hopeful starting quarterback Aaron Rodgers will attend. According to the collective bargaining agreement, the league can fine a player up to $93,085 for missing all three days of minicamp.
The Vikings want to ensure star running back Dalvin Cook has fresh legs all season, so they are governing his offseason work and limiting his reps in the team's practices.
Former Lions WR Calvin Johnson has "mad respect" for new head coach Dan Campbell. The two played together in Detroit when Megatron was in his prime.
NFL News & Notes
Expect to hear a lot about "race-norming" in the coming days, which is the league's way of saying racism has existed in the cognitive evaluation of players. The NFL has promised to stop, though it's jarring that the practice actually existed.
Buccaneers QB Tom Brady finally admitted he was confused on a 4th down play against the Bears back in Week 5 of last season. He cost Tampa Bay a shot at a victory by not knowing what down it was.
WR Julio Jones is the latest big name being linked to the Seahawks this summer.
As far as the Browns are concerned, DE Myles Garrett is done playing basketball. Garrett agrees, at least for now.
NFL Network's Tom Pelissero reported yesterday that the NFL and NFLPA  plan to keep in place several of last year's COVID-related rules, including unlimited/faster return from injured reserve and 16-man practice squads.
Three Yards and a Cloud of Dust
Mike Ditka is the only tight end in

NFL

history to have 1,000+ receiving yards in his rookie season. Iron Mike had 56 catches for 1,076 yards and 12 TDs, and was named 1961 Offensive Rookie of the Year by the Associated Press.

Ryan Fitzpatrick is the only QB in

NFL

history to throw 4+ TDs in a game for 5 different teams.

There have been three instances in Super Bowl history where a game-winning field goal was made with less than 10 seconds on the clock. Jim O'Brien of the Colts kicked one of them in 1970. Recently retired Adam Vinatieri kicked the other two.
Backfield in Motion
I love the creativity and swagger, but seriously AJ Dillon, "Quadfather?" It sounds like a four-cheese special with the works from Pizza Hut.
#Packers RB AJ Dillon took time to explain a few things about his quads today:

*He says his quads are the biggest/strongest in the NFL.
*He now has nicknames for both his quads
*One quad is "Quadfather"
*The other is "Quadzilla"

He was very serious. He also plans to sell merch. pic.twitter.com/uKB7PtKHvK

— Ari Meirov (@MySportsUpdate) June 2, 2021
From the Podium
"Justin Fields is a freakish athlete. He carries that leader mantra that you rarely see from rookies. He's great. It's good to see him. He looks great out there." – David Montgomery
"Fields is a great guy. He is going to make the quarterback room better." – Andy Dalton
"Nick [Foles] and I have talked and he understands that going into this, that Justin is going to get the [No.] 2 reps. Nick is a true pro, understands it, and is still very competitive." – Matt Nagy
Two-Point Conversion
"Motivation comes from within each individual. It's a personal thing. It's pride, guts, desire, whatever you want to call it; some people have it in their bellies, and some don't." – Mike Ditka
He's stubborn and curmudgeonly, but Ditka is still one of the best tight ends of all-time. He and head coach George Halas revolutionized the position by making No. 89 a playmaker instead of an end blocker.