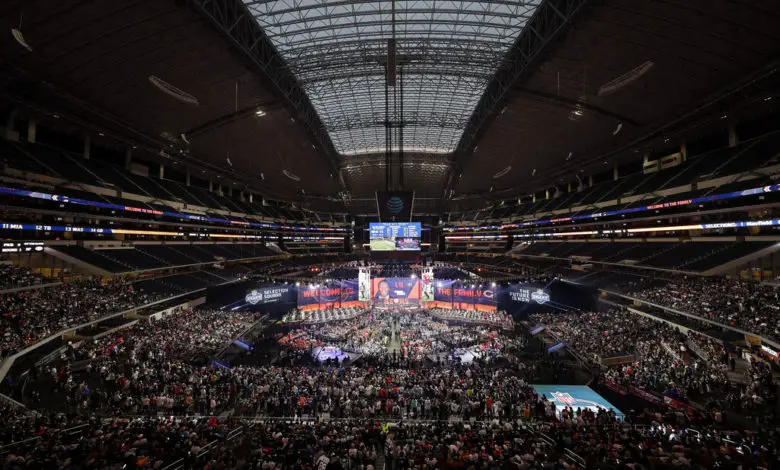 First and Long: Bears Should Trade Out of First Round, Pace Still Looking for Franchise QB, Jets Trade Darnold to Panthers, QBs Could Go 1-2-3 in Draft
I've been thinking about this for the better part of a month or so, but I'd like to volunteer my services to help fix the Bears and in the process maybe save the jobs of Ryan Pace and Matt Nagy. It's going to take a bold draft-day trade, but if Pace just follows my plan, I believe brighter days lie ahead for the Monsters of the Midway. For fans, it's going to mean giving up on that franchise quarterback for at least another year.
First of all, forget about trading up to get one of the top four quarterbacks. The Falcons are rumored to be shopping the number four overall pick but Pace navigates the first day of the draft with a big, orange "O" (for overpay) sewn to his sweater, and the other league GMs will eat him alive. Atlanta GM Terry Fontenot, who has previously enjoyed a working relationship with Pace in New Orleans, probably salivates at the thought of seeing his buddy's number popping up on his caller ID in the next few weeks.
Bears GM Ryan Pace said that he's evaluating QBs in the draft differently. He didn't fully elaborate but part of that is learning from the Mitch Trubisky selection. He did highlight that there is direct involvement with the coaches, particularly Matt Nagy.

— Adam Jahns (@adamjahns) April 2, 2021
Pace needs to exercise restraint. The play here should be to move down, and there's one team that lines right up in Chicago's wheelhouse if the Bears decide to make such a move. That would be the Jaguars, who already own two first-round picks this year and are likely to grab Clemson QB Trevor Lawrence at number one overall. The Jags also need an impact running back, a lockdown defensive back, and help on the offensive line. That number 20 pick might look particularly appetizing and the Bears could do some damage a couple of ways if they can off that pick to Jacksonville.
One possibility that works out by the numbers is exchanging No. 20 for the first picks of the second and third rounds (33 and 65 overall). That would provide the Jags the opportunity to grab RB Travis Etienne, also of Clemson, and one of S Trevon Moehrig of TCU or CB Greg Newsome II of Northwestern. With the extra pick, the Bears could take a QB like Davis Mills of Stanford or Kellen Mond of Texas A&M and still address more obvious needs.
Jacksonville also has the No. 45 overall pick and if Pace took that instead of No. 33, he could still get the pick at 65, plus the first pick of the 4th round (106 overall). Mills will probably be available at 45, and including that pick plus the ones they already own, that three-for-one swap would give the Bears 10 selections in this year's draft (45, 52, 65, 83, 106, 164, 204, 208, 221, and 228).
– How can CB & WR be a greater draft need than O-line?

– How do Ryan Pace & Matt Nagy put their faith in Andy Dalton?

– What's the next move at QB?

– What about Davis Mills as a prospect?

Plus much more in #Bears Mailbag.https://t.co/8AJJWEYLUB

— Brad Biggs (@BradBiggs) March 31, 2021
During his tenure with the Bears, Pace has been one of the more savvy executives while not picking in the first round. Adding to that stable of picks could allow the beleaguered GM to shine at the end of this month. Right now, Jacksonville owns seven picks in the first four rounds, and no team may be better positioned to move up for an extra first-rounder. One would hope Pace sees the opportunity and resists any urge to overpay to get into the top five.
Bears News & Notes
There's a Flag…On the Play
Oh the humanity. I suppose Jay Cutler will go down as the most prolific Bears QB of the 16-game era, with Jim McMahon as the only championship signal caller in that 43-year span.
Stat of the Night: With the NFL expanding to a 17-game season in 2021, the Chicago Bears and New York Jets are the only two team's to not a have a 4,000 yard passer in the 16-game era which started in 1978. pic.twitter.com/pcX863L49c

— NFL Memes (@NFL_Memes) March 29, 2021
Northern Exposure
Aaron Rodgers may have a future as host of TV's Jeopardy, though nobody will ever truly replace Alex Trebek.
Rodgers is still uncertain of his future with Green Bay, calling the ordeal a "beautiful mystery."
The Lions were hoping to trade down from the No. 7 overall pick, but the teams in need of quarterbacks have now leapfrogged ahead of them.
Vikings CB Jeff Gladney has surrendered to authorities in connection with a family violence assault charge on an unnamed 22-year-old woman.
The Vikings have the 14th pick in the first round and are likely to take an offensive lineman.
Post Pattern
Do you know what never gets old? Watching highlights of the most electrifying player in Bears history, Devin Hester.
Three Yards and a Cloud of Dust
Quarterbacks are expected to go at numbers 1, 2, and 3 of this year's first round. The last time that happened was in 1999 when the Browns selected Tim Couch, the Eagles selected Donovan McNabb, and Akili Smith was drafted by the Bengals.
On this day 56 years ago, the color of penalty flags was changed from white to bright gold due to a record jump in color TV sales.
No matter the length of the schedule in previous years, the Bears are the league's only franchise without a 4,000-yard passer in a single season.
NFL News & Notes
The NFL may relax number restrictions on jerseys starting this season. Look for a lot of wideouts to go to single-digit numbers if the change is approved by league owners, and why wouldn't they, it would mean a huge surge in licensing dollars through sales of NFL apparel.
The Jets traded QB Sam Darnold to the Panthers, who now land their presumptive starter for 2021. New York will acquire Carolina's 2021 sixth-round pick and second- and fourth-round picks in 2022.
The Panthers will look to trade starting QB Teddy Bridgewater after acquiring Darnold.
The Jets could end up taking Zach Wilson second overall after taking Darnold with the third pick in the 2018 Draft. If that happens, New York would become the first team in the Common Draft Era to select two QBs using the top three overall picks in a four-year span.
WR Antonio Brown would like the Bucs to extend an offer to resign him.
Tampa Bay QB Tom Brady took his celebratory trip to Disney World for a record seventh time.
A 22nd woman has filed a civil suit against Texans QB Deshaun Watson alleging sexual misconduct.
If the Seahawks decide to trade Russell Wilson, the Eagles may be best positioned to acquire the veteran signal-caller.
Backfield in Motion
Nagy said he will resume calling plays on offense next season. The head coach forcing the ball downfield with Dalton at the reins is an implosion waiting to happen.
3 highlights from Chicago Bears HC Matt Nagy's media session:

1) On Mitch Trubisky: "It just didn't work out here. He worked so hard."

2) Said he feels good about Andy Dalton being the starting QB.

3) Will call offensive plays for the 2021 season.

(Via Bears YouTube)

— Daniel Greenberg (@ChiSportUpdates) April 2, 2021
From the Podium
"With Dalton, the things we like as you look at it, obviously his experience — he's a nine-year starter, he's been to three Pro Bowls, a lot of leadership… decision making, [his] decision making, he's won a lot of games in this league. And I think, really, Andy fits our style of offense. When you go through it with our scouts and coaches, he can handle the drop-back game, he can handle the RPOs, the play actions, the movements. And we just felt, as we went through those free-agents, he's one of the more complete quarterbacks that we evaluated…and we're excited to have him." -Ryan Pace
"Ryan [Pace] and I are super excited about going through that evaluation process together and how we do it. It's a challenge, but we look forward to it. There are a lot of good quarterbacks in this draft class." – Matt Nagy
Today's Halftime Entertainment
Stay With Me by Sam Smith. I know he loves Dalton, but if Pace is truly looking to add a QB in this year's draft, he really needs to focus and avoid another drastic overpay.