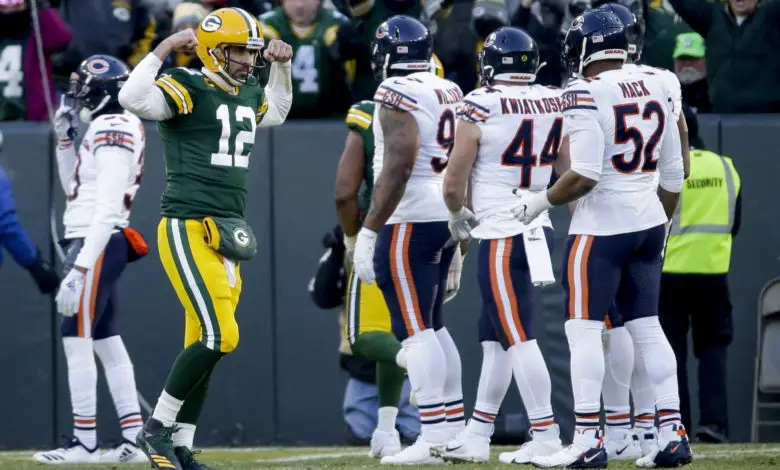 First and Long: Bears Need Big Win Versus Green Bay, Trubisky Looks to Silence Critics, Rams Lose Starting QB to Injury
The Green Bay Packers come to Soldier Field on Sunday, and they're hunting bear. Green Bay has a multi-tiered agenda that includes the following:
Win the game to clinch a first-round bye and home-field advantage throughout the NFC playoffs;
Help to eliminate their oldest rival from a Wild Card berth;
Help Aaron Rodgers earn his third career MVP award; and
Get Davante Adams two touchdown receptions so he can break the team record held by Sterling Sharpe.
Meanwhile, the Bears are on an historic pace offensively, and right now, look like they could put bunches of points on any opponent. Sunday's game should therefore realistically be considered a playoff game. If anything, life gets a whole lot easier for Matt Nagy and his squad if they can beat Green Bay and force their way into the official postseason tournament.
Four straight games with 30+ points? The @ChicagoBears are heating up… uh-oh. pic.twitter.com/pKG10Xf27Q

— FOX Sports: NFL (@NFLonFOX) December 28, 2020
If the Bears lose, they need help from the Rams to beat the Cardinals. Depending on how Sunday's games play out, the Bears could enter the playoffs as a six or seven seed, or go home. Green Bay is battling the Saints and Seahawks for the top seed in the conference. Los Angeles, Arizona and Chicago are slugging it out for the final two Wild Card entries. Simply put, if the Bears win, they're in, and the Packers will need to wait and see what New Orleans and Seattle do to find out where they're seeded and who they'll play.
Interestingly, Rodgers has never lead the Packers into the playoffs as the No.1 seed. He'll enter Sunday's game with a career mark of 19-5 against the Bears.
If the Rams beat the Cardinals, the Bears are in no matter the outcome of their game against the Packers. If both the Cardinals and Bears win, the Rams will sit the postseason out. All of the teams battling for the NFC's top and bottom seeds will play their games at 3:25 CT on Sunday.
If you plan to travel to a bar to watch the entire spectacle play out, you will do so at your own risk. Week 17 could be named as the nation's next super spreader event. Here in Milwaukee, the bars were packed for Sunday night's Packers-Titans match, there was little social distancing, and few wore masks. I'm certain that similar hazards exist in other cities that are left unpoliced. Please be careful. No amount of fanaticism is worth risking your life or the lives of others.
Bears News & Notes
There's a Flag…On the Play
Last night Bill Belichick looked to be begging for Tom Brady to return, and was apparently spurned.
Bill Belichick is fed up pic.twitter.com/Nh6AQqJyDK

— Ari Meirov (@MySportsUpdate) December 29, 2020
Northern Exposure
Adams may deserve more credit for Green Bay's success this year than Rodgers. The wide receiver earned some high praise from his quarterback after Sunday's win over the Titans.
If the Vikings lose to the Lions on Sundays, they could end up with a top ten pick in the 2021 draft.
Despite a long list of injuries and ailments, and the fact that Sunday's game is basically meaningless, Detroit QB Matthew Stafford fully intends to play against Minnesota.
Three Yards and a Cloud of Dust
If Rodgers doesn't throw an interception on Sunday, he will become the first QB in NFL history with 40+ pass TDs and five or fewer INTs in a single season.
The Giants enter Sunday's game with a 5-10 record and a 22% chance of winning the NFC East. They'd need to beat the Cowboys and then hope the Eagles beat Washington on Sunday night. If they lose, and again, with a little help, they could end up with the third overall pick in next year's draft.
With four dimes last night, Bills QB Josh Allen set a single-season team record with 34 touchdown passes, surpassing Jim Kelly who had 33 in 1991.
Around the League
The Bills beat the Patriots 38-9 last night, sweeping the season series against their rivals for the first time since 1999.
The Rams announced Monday that starting QB Jared Goff will miss Sunday's game after an injury suffered in Sunday's loss to the Seahawks. Goff had thumb surgery, and backup John Wolford will start in his place.
Wolford has yet to take a single snap in the NFL.
Washington QB Dwayne Haskins, who was the 15th overall pick out of Ohio State in the 2019 draft, was cut by head coach Ron Rivera yesterday. The move was abrupt, but so was Haskins's 20-month tenure with the team. Haskins played 16 games (13 starts), finishing his career in Washington with 2,804 passing yards, 12 touchdowns, 14 interceptions, and a 3-10 record. Haskins also violated the team's COVID-19 protocols for players and staff.
Because of the ongoing pandemic, the NFL played games on all seven nights this season, a first for the league.
Fumblerooski
Bears ILB Roquan Smith may be the biggest Pro Bowl snub of all time.
#Bears LB Roquan Smith this year:

• 128 total tackles (T-4th in NFL)
• 89 solo tackles (2nd in NFL)
• 17 TFL (2nd in NFL)
• 61.2 completion % allowed (6th among LBs)
• 67.6 passer rating allowed (6th among LBs)

How does that not get him into the Pro Bowl?

— Jacob Infante (@jacobinfante24) December 22, 2020
At the Podium
"Our players and our coaches have battled. We've all now together put ourselves in the position where [if we] win a football game, last game of the year, and you're guaranteed to be in the playoffs. That part's exciting." – Matt Nagy
"I just feel lucky and blessed to play and be back in this offense. It's been a crazy season." – Mitch Trubisky
Today's Halftime Entertainment
I Was Wrong by Chris Stapleton – Maybe some of us have been to quick to judge Nagy and Trubisky, especially if the Bears can upset the Packers on Sunday.