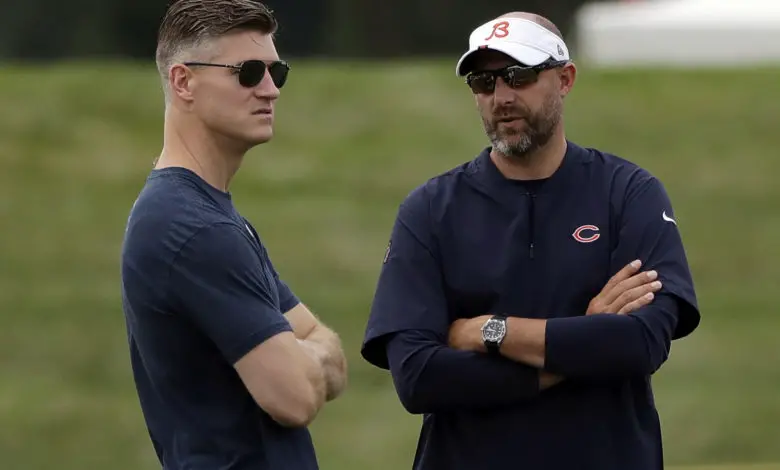 First and Long: Bears Choose Mediocrity Over Change, McCaskeys Back Team Leadership, Conference Championship Games Set for Sunday
After an exciting weekend of football, the AFC and NFC Championship Games have been set, and Bears fans are left to dream about what a successful NFL franchise in Chicago might look like. The Packers will host the Buccaneers for the George S. Halas Trophy, and the Chiefs will host the Bills to secure the Lamar Hunt Trophy and a chance to repeat as AFC champions. Both games will be played this Sunday.
If you watched any of the division round games you probably feel like the Bears are a long way from playing championship-caliber football and you're right. Few 8-8 teams are as prideful of their executive leadership, but George McCaskey unabashedly proclaimed that the NFL's oldest franchise is and will remain successful because of the right combination of culture and continuity within the ranks. The Bears needed Avengers-level change and McCaskey is selling us the same dysfunctional clown car that's been lapping Soldier Field since the start of the 1990s.
"He has done an outstanding job for us. We are very grateful for the job that he has done."
– Chicago Bears chairman George McCaskey on team president Ted Phillips

(Via 670 The Score)

— Daniel Greenberg (@ChiSportUpdates) January 14, 2021
The McCaskey's can't actually believe the nonsense they're spewing, can they? We haven't seen this type of information management and failure to convey the truth since the Vietnam conflict.  
If jobs were never truly on the line this year, what can fans expect if Nagy and his charges deliver another average season that keeps the Bears in contention while failing to keep up with the league's elite teams?  And how the heck can the job Ted Phillips has done be anything better than mediocre? To call his to-date performance "outstanding" proves McCaskey believes an overall lack of intelligence exists among Bears Nation.
Regardless, Bears fans don't have a whole lot to look forward to. The same staff that has led to the team's annual league-average snoozefest will be tasked to determine the long term answer at quarterback while overhauling the offensive line and receiver corps. Nagy, or some combination of the head coach, Pace and Phillips, will also have to find someone to replace retired defensive coordinator Chuck Pagano.
Pace has made two disastrous decisions when it comes to finding a franchise quarterback. He signed Mike Glennon in free agency and paid him $18.5 million to make four starts. The GM also drafted Mitchell Trubisky that same year, choosing Mitch the Kid over Patrick Mahomes and Deshaun Watson. The latter could be available in trade this spring, but would Pace truly admit to an earlier failure by acquiring Watson, at the obvious cost of multiple draft picks, instead of signing Trubisky?
By keeping the status quo, Chicago enters the offseason with more questions than had they overhauled the entire decision-making team. The answers that triumvirate will provide will also come with a fair amount of well-deserved doubt based on previous personnel choices. Barring a trade, Pace will select No 20 in the first round of April's draft, and because the Bears played their home games in an empty Soldier Field, it's likely the front office will be working with a reduced budget. It's almost as if Pace and Nagy are being set up to fail just so the team can avoid paying off their contracts while they work elsewhere. That doesn't seem very surprising considering Phillips is still calling the shots.
Bears News & Notes
There's a Flag…On the Play
Saints head coach Sean Payton did an excellent job of trolling Nagy, Trubisky, and Javon Wims in yesterday's contest.
Jameis Winston with a TD against his former team 🔥

— NFL Stats (@NFL_Stats) January 18, 2021
Northern Exposure
Sportsbooks have chosen the Packers and Chiefs as opening favorites to advance to Super Bowl LV.
Green Bay's Matt LaFleur is just the third head coach in the last 25 years to take his team to a conference championship in each of his first two seasons.  The last two were Jim Harbaugh with the 49ers (2011-12) and Rex Ryan with the Jets (2009-10), believe it or not.
Lions running back Adrian Peterson has been ordered to pay almost $8.3 million in a summary judgment to Pennsylvania loan company DeAngelo Vehicle Sales after defaulting on a 2016 loan, New York State Supreme Court records show.
ESPN's Adam Schefter reported that Saints' tight ends coach Dan Campbell will be Detroit's new head coach.
Vikings rookie Justin Jefferson believes he was disrespected by the league because he was the fifth wide receiver chosen in last year's draft.
Three Yards and a Cloud of Dust
Tom Brady has been to the conference championship game 14 times, more than any other QB in the game's history.
The Chiefs will host a conference championship game for the third straight year. Only the 2002-04 Eagles have accomplished that, and Andy Reid coached both teams.
Despite leading the NFC with 1,557 rushing yards, Vikings running back Dalvin Cook did not receive a single All-Pro vote this year.
League News & Notes
Tim Tebow said he won't give up baseball to play for Urban Meyer, who was just hired as head coach of the Jaguars. Did anybody think that was a possibility?
The Chargers announced they are hiring Rams' DC Brandon Staley as their new head coach. Staley was linebackers coach under Vic Fangio with the Bears for three seasons.
Former Bears DB Leslie Frazier interviewed with the Texans to potentially fill their head coaching vacancy.
After yesterday's loss, Drew Brees is pondering retirement and considering a job as a television analyst, and indicated he has no regrets about playing this season.
Brady shared a wonderful moment with Brees and his family following yesterday's game. Check out the way Brees' daughter is working over her big brother though.
Mahomes was removed from yesterday's game with a head/neck injury and was placed in concussion protocol. His status for the AFC Championship Game is unknown.
FOX NFL analyst Jay Glazer said the injury to Mahomes wasn't as serious as it appeared and that the signal caller should be able to start on Sunday.
Buccaneers TE Rob Gronkowski has already made up his mind and vowed to return to Tampa Bay for at least one more season, even though he will enter the offseason as an unrestricted free agent.
Fumblerooski
Just when we thought we'd never hear from Johnny Manziel again.
Johnny Manziel trolls the #Browns following divisional round loss 🧐https://t.co/edmIfllYsm

— NFL Stats (@NFL_Stats) January 18, 2021
At the Podium
"The leadership that Ted Phillips has displayed during the pandemic has been extraordinary. It is yet another example of why our family has so much faith in him as the Bears' president and CEO. I was [also] impressed with [Pace and Nagy]  this past season, especially during the six-game losing streak. The fact that our players never gave up is a tribute to the players. It is also indicative of the type of players that Ryan acquires and to the players regard for Matt as their head coach." – George McCaskey
"Have we gotten the quarterback situation completely right? No. Have we won enough games? No. Everything else is there…" – Ted Phillips
Today's Halftime Entertainment
Won't Get Fooled Again by The Who – Whose statements are harder to believe, Phillips or McCaskey?