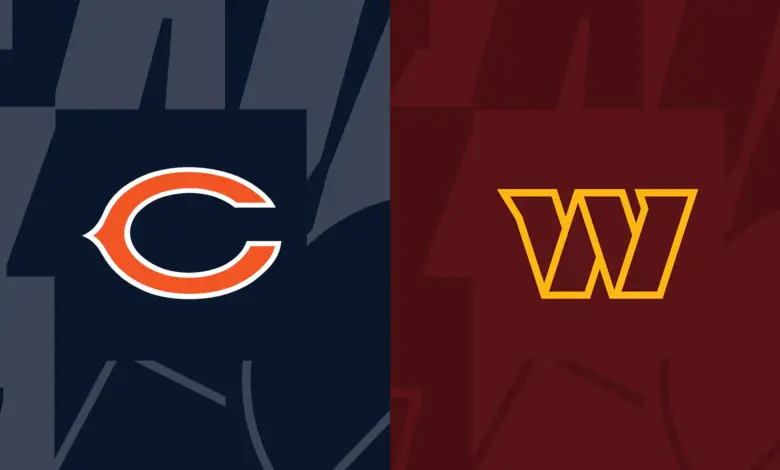 Chicago Bears @ Washington Commanders – Week 5 Game Preview: Overview, Keys to Game, Insights
The Bears (0-4) just suffered a devastating loss to the Broncos blowing a 21-point lead in the second half Sunday at Soldier Field. The meltdown wasted quarterback Justin Fields best career game where he threw for 300 yards and three touchdowns.
Chicago does not have much time to dwell on their defeat as a head to Washington for a Thursday night match up with the Commanders (2-2). Ron Rivera's team has wins over the aforementioned Broncos and the Arizona Cardinals while dropping games to the Buffalo Bills and Philadelphia Eagles.
The Commanders offense has shown flashes of skill, especially from running back Brian Robinson. Second-year quarterback Sam Howell is inconsistent but has a quality wide receiver in Terry McLaurin. They are averaging 22.3 points per game so far in 2023.
Despite a quality pass rush, Washington has had very bad defense so far this season. They are allowing 30 points a game so far through four weeks, the fourth most in the NFL. Some of the underlying numbers in yards allowed look better than the point totals, so perhaps they are getting some bad luck.
This is a team that took the undefeated Eagles to overtime, so they aren't a pushover. Of course at this point, the Bears are worse than pretty much anyone they would play so any win would be an upset. Perhaps a quick turnaround will help Chicago finally get a win, so far nothing else has worked.
Where to Watch/Listen
Thursday, October 5 at 7:15pm CT on Amazon Prime, WBBM Radio (English), and WRTO Radio (Spanish).
Keys to Victory
Here are my keys to Thursday's game. If these things happen, the Bears should have a shot to win.
Justin Fields needs to build on his success from Sunday's game. Fields really appeared to find something in the game against the Broncos especially when targeting big acquisition D.J. Moore. His success is the only thing that could really get the Bears some victories this season.
Get more turnovers. Chicago finally got a pair of interceptions last game and it at least gave them an opportunity to win the game. Washington has eight giveaways this year so they are vulnerable to turning the ball over.
Try to establish some kind of a running game. The Bears inability to run the ball really hurt them when they tried to protect the lead against Denver. It would make things a whole lot easier if they could do that this week.
Don't Tell Me the Odds
The Bears are six point underdogs on the road in the Nation's Capital. Vegas expects a fairly low-scoring game with an over/under set at 44.
It's Football Weather
It's going to be a very nice night at Washington Thursday with a temperature of 69 degrees at game time.
My Prediction
I think Fields has some good moments in this game and puts up a couple of touchdowns but Washington takes home the victory in the end 28-20.
Official Bears Preview
Here are Bears analysts Jeff Joniak and Tom Thayer previewing the Bears' upcoming Week 5 matchup with Super Bowl-winning quarterback Doug Williams on the Bears Etc. Podcast.