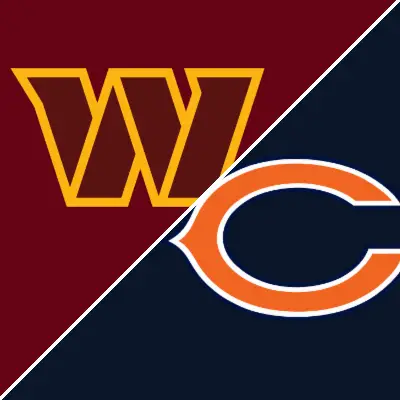 Chicago Bears vs Washington Commanders – Week 6 Game Preview: Overview, Keys to Game, Insights
The Bears (2-4) suffered a tough loss against the Vikings Sunday in Minneapolis. Minnesota raced out to a 21-3 lead in the first half and it looked like it was going to be a blowout. Then, Justin Fields got into a groove for the first time in 2022 and led Chicago to 19 consecutive points to briefly move ahead 22-21 in the fourth quarter.
Unfortunately, the Vikings responded with a six-minute touchdown drive to retake the advantage. The Bears young quarterback was moving his team towards a tying score when wide receiver Ihmir Smith-Marsette fumbled fighting for extra yardage and Minnesota recovered to close out the 29-22 victory.
It is a short week for the Bears as they head back home for a Thursday night contest with the Washington Commanders. The Commanders (1-4) may have a new name but they are still the same dysfunctional organization they were before rebranding.
The off-season acquisition of QB Carson Wentz has not worked out well early on with head coach Ron Rivera having to apologize for publicly blaming the team's struggles on his quarterback. A truly horrible offensive line also contributes to the unit that only scores 18 points a game.
Defensively, things are not much better for Washington with 25.6 points allowed per game. They actually do not allow many yards compared to the rest of the league but they struggle to generate turnovers. Amazingly, they have just a single interception and no fumble recoveries in five games played.
This is a game the Bears have a decent chance to win, especially, if they play like they did in the second half against the Vikings. Most importantly, it is a chance for Justin Fields to build on a good performance and hopefully put his early-season woes behind him.
Where to Watch/Listen
Thursday, October 13 at 7:20pm CT on Amazon Prime, WBBM Radio (English), and WRTO Radio (Spanish).
Keys to Victory
Here are my keys to Sunday's game. If these things happen, the Bears should have a shot to win.
Pressure Carson Wentz early and often. The Commanders quarterback has been sacked a whopping 20 times through five games. He also makes poor decisions under pressure as evidenced by six interceptions so far this season.
Get David Montgomery involved in rushing and receiving. Montgomery returned from injury and had a nice game but he actually did more damage receiving than running. He is a real asset in the screen game which can neutralize a pass rush.
Make sure to get off to a good start. The Bears have fallen behind in four of five games this season and they have a trailed at halftime in every single game. Getting an early lead would take the pressure off Fields and the offensive line and let Chicago run the ball.
Don't Tell Me the Odds
Vegas doesn't know what to do with this game so they have it as a pick 'em with even odds between the two teams. The over/under between the two squads is a comically low 37.5 with two of the worst offenses in the NFL doing battle.
It's Football Weather
According to the Weather Channel, the forecast for Thursday night at Soldier Field is 47 degrees under partly cloudy skies with a 12 mile-an-hour west wind.
My Prediction
I think the Bears will take an early lead on Thursday night with a solid game by Fields before Washington battles back to make it a close game. In the end, a key interception by Carson Wentz will give the Bears a 21-17 win.
Official Bears Preview
Here are Bears analysts Jeff Joniak and Tom Thayer with their preview of the Bears' upcoming Week 6 matchup.