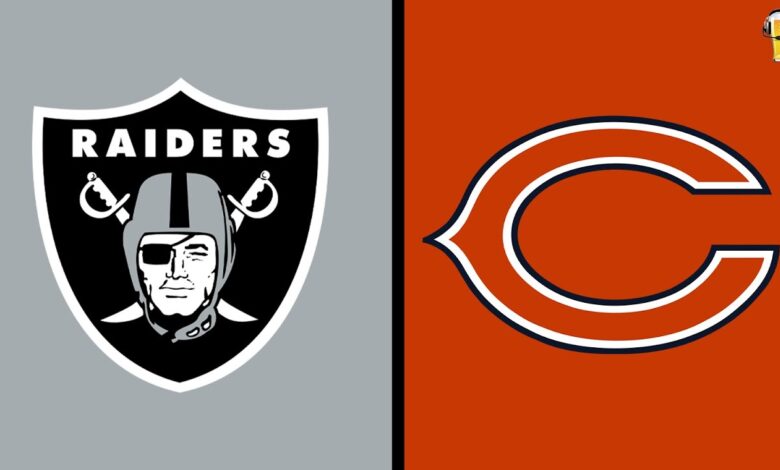 Chicago Bears vs Las Vegas Raiders – Week 7 Game Preview: Overview, Keys to Game, Insights
The hits keep coming for the Bears (1-5) with another loss to the Vikings last week and a potential significant injury to quarterback Justin Fields. Fields suffered a dislocated thumb on his throwing hand and it is still unclear if he will require surgery, either way, rookie Tyson Bagent is getting the start at QB this week. In the meantime Chicago is preparing for a matchup of backup quarterbacks as the Raiders (3-3) come to Soldier Field Sunday.
Las Vegas is a 500 team despite an anemic offense that is averaging just 16.7 points a game through six weeks. A back injury to starter Jimmy Garoppolo will keep him out of this game and old friend Brian Hoyer will start against the Bears. Former Packers star Davante Adams has been under utilized so far with the uneven quarterback play this season.
The Raiders defense has been the stronger part of their team, especially, stud defensive end Maxx Crosby who has 5.5 sacks already in 2023. The pass defense in particular is in the Top-10 of the NFL thanks to the rugged pass rush. It's a big reason why they've been able to win three games despite only scoring more than 20 points one time this year.
These are two teams that struggle to score even when fully healthy so this contest is going to be very ugly with a pair of backup quarterbacks. I'm not sure Chicago will be able to do anything on offense without Fields it will have to be a grind to come close to victory. The odds won't be good but of course, they haven't been all season
Where to Watch/Listen
Sunday, October 22 at 12:00pm CT on FOX, WBBM Radio (English), and WRTO Radio (Spanish).
Keys to Victory
Here are my keys to Sunday's game. If these things happen, the Bears should have a shot to win.
Try to establish some kind of running game. With a backup quarterback in the game getting a ground attack going will be huge. The Raiders defense struggles with running backs so they are vulnerable if Chicago can find someone to be productive.
Force mistakes from Las Vegas quarterbacks. The Bears defense will need to force the backup signal-callers into turnovers if they want any significant chance to win.
Make something happen on special teams. With a low scoring game like this a big return or other special teams play could be the deciding factor.
Don't Tell Me the Odds
Vegas has installed the home-town Raiders as a 2.5 point favorite in Chicago. Odds-makers have absolutely no faith in either team's offense, setting the over/under at 37.5.
It's Football Weather
It's going to be around 60 degrees Sunday afternoon at Soldier Field with a chance of rain and northwest wind at 17 miles an hour.
My Prediction
This is not going to be a very good game but Las Vegas will generate more with the running game and pull out a 13-7 victory.
Official Bears Preview
Here are Bears analysts Jeff Joniak and Tom Thayer previewing the Bears' upcoming Week 7 matchup with Amy Trask, the former CEO of the Oakland Raiders, on the Bears Etc. Podcast.