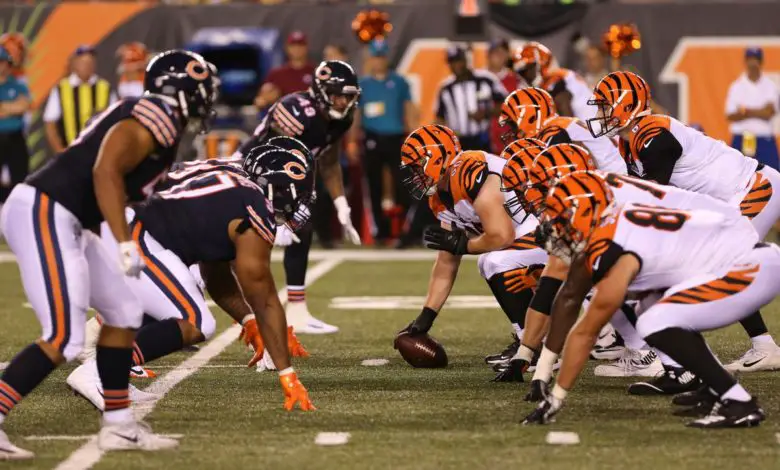 Chicago Bears vs Cincinnati Bengals – Week 2 Preview, Keys to Game (Video)
The Bears (0-1) opened the 2021 season with a disappointing but not unexpected 34-14 loss to a talented Rams team in Los Angeles. The secondary struggled mightily under the LA passing attack. It wasn't much better on the offensive end, Chicago moved the ball but could not score enough to stay competitive.
Andy Dalton was fine, however, certainly not good enough to reduce calls for top pick Justin Fields to take over at quarterback. For one week, at least, Dalton will remain the starter and probably will lean heavily on running back David Montgomery. Montgomery, was very impressive against the Rams front running for over 100 yards on Sunday.
Fields was not completely absent Week 1, he got in for a handful of plays and scored a rushing touchdown to whet fan appetites even more. The undermanned offensive line suffered another injury they could not afford when Jason Peters limped off with a quad injury halfway through the game. He is practicing and may be able to play this week, which is good because his backup, Larry Borom, is out with a high ankle sprain.
This Sunday the Monsters of the Midway return to Soldier Field to open the home schedule against the Cincinnati Bengals (1-0). The Bengals surprised the Minnesota Vikings with a win in overtime last week. Former number one pick Joe Burrow has returned from a knee injury in 2020 to try and build Cincinnati back to contention.
A 4-11-1 record last season shows how far the Bengals still have to go. Running back Joe Mixon had a huge game against the Vikings running for 127 yards and a touchdown. This year's top pick, wideout Ja'Marr Chase had a great debut with over 100 yards receiving.
The defense in Cincinnati has a lot of room to improve before it can be a strong suit. The Vikings stormed back from a 14-point second half deficit to force overtime in Week 1. Kirk Cousins was able to throw for 351 yards and two touchdowns against the Cincy secondary.
The Vegas oddsmakers have installed the Bears as 2.5 point favorites against the Bengals, basically a tossup. Chicago would be wise to avoid an 0-2 start, as teams that begin the year with two losses see their playoff odds take a precipitous drop. The game Sunday against  a relatively weak opponent will be their first major test of 2021, can the Bears pass it?
Where to Watch/Listen
Sunday, September 19 at 12:00pm CT on FOX, WBBM Radio (English), and WRTO Radio (Spanish)
Keys to Victory 
Here are my keys to Sunday's game. If these things happen, the Bears should have a shot to win.
Keep feeding David Montgomery the ball. The Bears running back had a huge game against the Rams, they will need more of that to keep the ball moving and set up play action for Dalton.
Get Allen Robinson II more involved in the passing game. Chicago's dynamic receiver had only six receptions for 36 yards against Los Angeles. Of course, all-pro corner Jalen Ramsey being on the coverage certainly helped that, however, you still want to see more from Robinson.
Try to force turnovers on the defensive end. The Bears created no turnovers in their Week 1 loss, obviously that will not get things done in the NFL.
Generate pressure with the defensive line and blitzes. Chicago's pass rush was a non-factor at SoFi stadium last Sunday. In fact, they only were able to record a single stack all night. Khalil Mack and Akiem Hicks are going to need to be much bigger factors if this defense is to do anything in 2021.
My Prediction
The Bears will be able to move the ball against the Bengals iffy defense. They should, hopefully, be able to pay off their drives with touchdowns unlike last week. Cincinnati will be able to put up some offense especially through the air against Chicago's undermanned secondary. A late Bengals turnover will be the deciding factor in a 31-28 Bears victory.
Official Bears Preview
Here are Bears analysts Jeff Joniak and Tom Thayer with their preview of the Bears' upcoming Week 2 matchup.