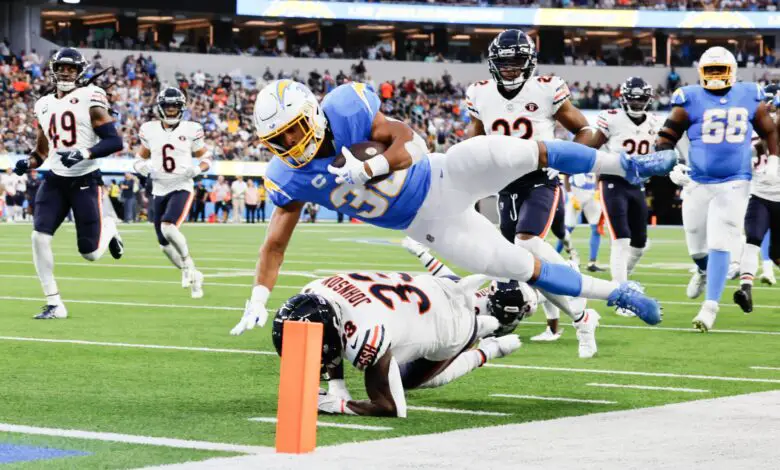 Chicago Bears Score and Recap (Week 8): Chargers 30, Bears 13 – Bagent, Bears Not Ready For Prime Time In Blowout Loss
The Bears had a very rough game Sunday night in Los Angeles falling behind early to the Chargers and never really getting back into it. Tyson Bagent was completely overwhelmed and had a nightmare performance in the rout.
Chargers quarterback Justin Herbert completely shredded Chicago's secondary from the open Sunday. The work was mostly done with short passes and terrible Bears tackling which led to two 1st quarter touchdowns. The home team eventually went ahead 17-0 late in the 2nd quarter.
The Bears finally put together a decent drive finishing it off with a Darrynton Evans touchdown run just under the two-minute warning. Unfortunately, Herbert was able to lead a lightning-quick response drive to score a back-breaking TD with just four seconds left in the first half.
The second half was largely academic, with Los Angeles kicking a pair of field goals and the Bears scoring a very late garbage-time touchdown. LA coasted to the 30-13 victory. (Box score)
Why the Bears Lost
The defense and the running game, which were so good last week, were absolutely horrible this week. Also the young quarterback made several questionable decisions that proved costly.
Key Moment
Darnell Mooney caught a long pass on the very first play from scrimmage to put the Bears past midfield. They were unable to produce any points on that drive and the Chargers would take the lead immediately after.
Stats That Matter
Bagent threw for 232 yards but he did not look good doing it, throwing two horrible interceptions and getting away with several more near picks. A very bad offensive line certainly did not help matters.
TE Cole Kmet had the best performance of any pass catcher with 10 receptions for 79 yards.
Chicago could get no traction on the ground running for just 73 yards on 26 carries.
Bottom Line
If you actually thought Tyson Bagent was a viable option at quarterback for the Bears going forward that performance should disabuse you of that notion pretty quickly. He doesn't have the tools to be a starting NFL quarterback. I assume the Bears coaching staff was just trying to build him up when they were telling the press he was an exciting prospect. If they really believe Justin Fields has things to learn from him that says a lot more about Fields than it does about Bagent, none of it good.
Next Up
The Bears head to New Orleans Sunday, November 5 for an early start against the Saints at noon in a game airing on CBS.