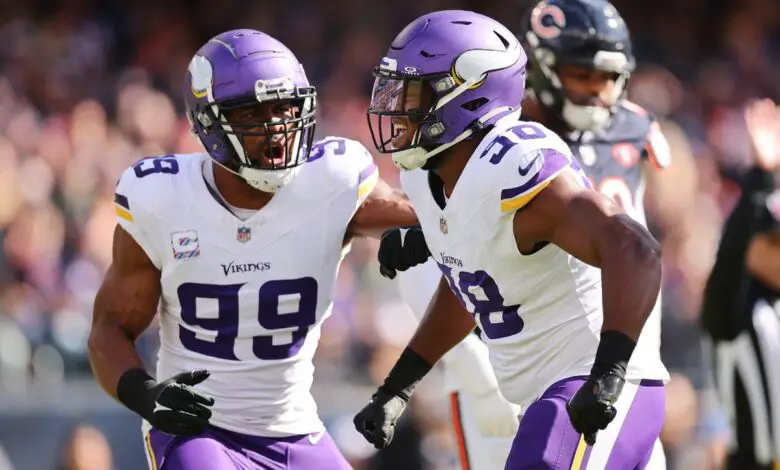 Chicago Bears Score and Recap (Week 6): Vikings 19, Bears 13 – Fields Injured in Bears Loss to Vikings
The Bears had another very sloppy performance in a loss to the Minnesota Vikings on Sunday afternoon. The bigger news, however, was a possible significant injury to quarterback Justin Fields who was knocked out of the game with a right hand injury in the 3rd quarter.
Most of the first half was a defensive struggle with both teams trading a pair of field goals. Chicago had good field position late in the 2nd quarter after Tremaine Edmunds recovered a Kirk Cousins fumble. Fields was then hit as he attempted to throw and was picked off by Jordan Hicks.
The Vikings were able to take advantage when Cousins hit Jordan Addison for a 10-yard touchdown pass with under 30 seconds to go in the half. The Bears were able to block the extra point and the score was 12-6 at the break.
Fields suffered his hand injury running out of bounds early in the second half and did not return after the first series of the 3rd quarter. Tyson Bagent took over and was strip-sacked on his third play of the game. Hicks made a second huge play of the game for Minnesota recovering the fumble and returning it 42-yards for a touchdown and a 19-6 deficit.
Chicago's back up quarterback put together a drive in the 4th quarter with two long passes to D.J. Moore. Bagent finished it off himself with a 1-yard run to cut the margin to 19-13. That was as close as the Bears would get as two more drives came up short and the Vikings won by that score. (Box score)
Why the Bears Lost
The offensive line was terrible on Sunday giving both quarterbacks no time to do anything and for good measure having several bad snaps from center. It wasted what was a pretty good effort by the defense to keep the Vikings in check.
Key Moment
The fumble return gave Minnesota a cushion they ended up really needing when the Bears scored late and was another failure by the blocking up front.
Stats That Matter
Fields had just 55 yards passing before he got hurt and did not look nearly as good as he had the previous two weeks.
Bagent showed flashes of competence with 83 yards passing but it wasn't enough.
Former Falcons running back D'Onta Foreman had 65 yards on the ground filling in for two injured backs.
Bottom Line
If Fields has a long-term injury it probably means trouble for his future prospects in Chicago. He needs these games to demonstrate that he can be a solution at the position going forward, otherwise they will likely use one of their first-round picks on another quarterback.
Next Up
The Las Vegas Raiders come to Chicago to take on the Bears Sunday, October 23 at 12:00pm CT on FOX.