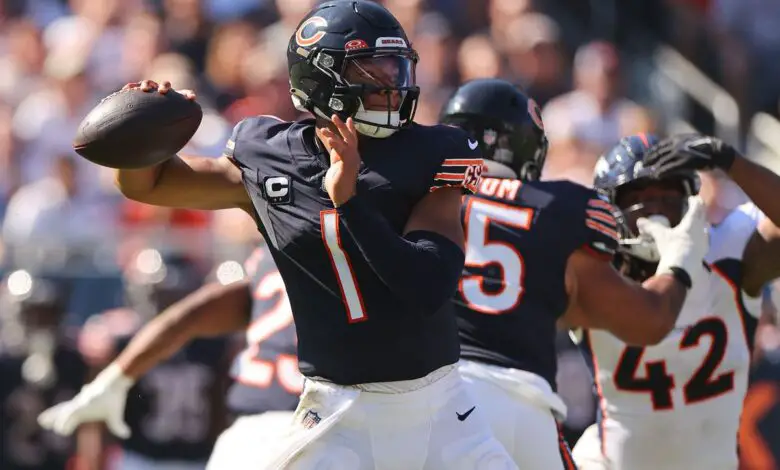 Chicago Bears Score and Recap (Week 4): Broncos 31, Bears 28 – Bears Collapse in Fourth, Lose Again
The Bears looked like they were in very good shape to win the first game of the season on Sunday with a three touchdown lead. Then the bottom completely dropped out and the Broncos were able to come all the way back and win, probably dealing a final blow to any hopes for a competitive season in Chicago.
Denver had the only score in the first quarter when Russell Wilson threw an 18-yard touchdown pass to Jaleel McLaughlin. Justin Fields and the Bears offense finally clicked in the second quarter scoring 21 points.
Fields hit D.J. Moore for a 29-yard touchdown and then hooked up with TE Cole Kmet for a 22-yard score to put Chicago ahead 14-7. Kmet pulled in a short pass for a second touchdown to put his team ahead 14 at the half.
.@justnfields with a DIME to @idjmoore 😮‍💨

📺: #DENvsCHI on CBS pic.twitter.com/tQtrjPHMQv

— Chicago Bears (@ChicagoBears) October 1, 2023
Khalil Herbert punched in a short reception late in the third quarter and the Bears were up 28-7. It was at that point that everything completely collapsed for the home team. Brandon Johnson caught a touchdown with just 10 seconds left in the quarter to make it 28-14.
Denver got the ball back and Wilson found Courtland Sutton for a 13-yard TD to make it just a one-score game. Then disaster struck when Fields with sacked and fumbled and LB Jonathan Cooper scooped it up returning it 35-yards for a game-tying touchdown.
After the Bears failed to convert a 4th down, the Broncos got the ball back and drove down for a go-ahead field goal with just a minute to go. A last gasp drive by Chicago fell short and they took a very painful loss. (Box score)
Why the Bears Lost
They seemed to take their foot off the gas when they built up the big lead and they just aren't good enough to get away with that.
Key Moment
Matt Eberflus decided to go for it on 4th and 1 at the Broncos 25 yard line late in the fourth quarter. Kicking a field goal would have put them ahead with less than two minutes to go in the game. It was an aggressive move that would have won the game if successful but it was not.
Stats That Matter
This was by far the best passing game of Justin Fields career with 335 yards and four touchdowns. Hopefully he can build on that and ignore the rough finish to the game Sunday.
Moore was finally able to get loose in a big way against the Broncos with 131 receiving yards.
Herbert had the Bears first 100-yard rushing day of the year going for 103.
Bottom Line
Not that the Bears prospects for 2023 were bright before this game, but it is pretty clear they aren't going anywhere after this. Fields is now playing to preserve a future role on this team and more games like Sunday will go a long way to doing that. Buckle up folks it's going to be another tanking year in Chicago.
Next Up
It's a short week as the Bears head to Washington to take on the Commanders Thursday night at 7:15pm CT in a game streaming exclusively on Amazon Prime.