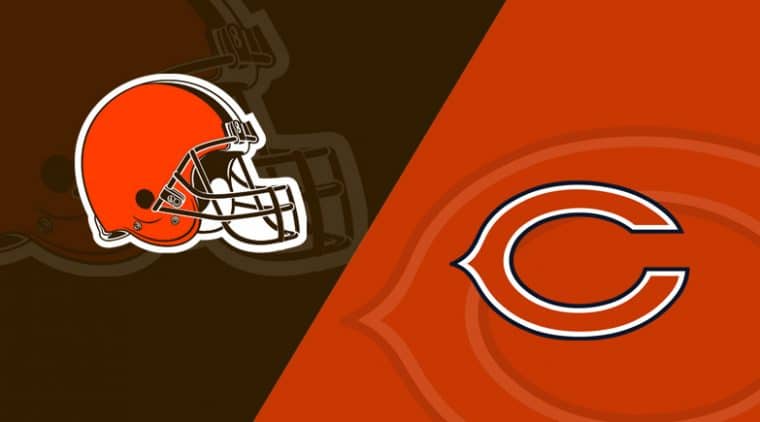 Chicago Bears @ Cleveland Browns – Week 3 Game Preview: Overview, Keys to Game, Insights
With the win over the Bengals at Soldier Field this past Sunday, the Chicago Bears managed to get their record back to even just two games into the season. The defense was the star of the game, creating three turnovers while holding Cincinnati to just 17 points. Of course, the biggest development was an injury to QB Andy Dalton that has forced head coach Matt Nagy to start rookie Justin Fields.
Nagy insists that Dalton will be starting again when healthy, but it's hard to imagine going away from a first-round pick and potential franchise quarterback if Fields shows even the slightest hint of competence as a game manager. Perhaps sooner than most pundits thought, Fields has a chance to seize the starting job and make this team his own.
There are a lot of questions for the Bears as they head to Cleveland to battle the Browns on Sunday afternoon.
The Browns made the playoffs in 2020 beating the Steelers before dropping a heartbreaker to the Kansas City Chiefs in the divisional round. They look to be well-positioned to make the playoffs again in 2021, with high-end talent on both sides of the ball.
Quarterback Baker Mayfield leads an explosive Browns offense that can score against any team in football. A two-headed running back monster of Kareem Hunt and Nick Chubb give Cleveland a devastating ground game. Although, injuries to Odell Beckham and Jarvis Landry have weakened a pretty solid receiving corps.
The defense is more of a sore spot for the Browns. Myles Garrett is still a dominant force at the line of scrimmage but the secondary is an issue. The additions of safety John Johnson and corner Troy Hill from the Rams are an attempt to address the problem on the back end. Early returns weren't good as QB Patrick Mahomes and the Chiefs lit them up in Week 1. Then again, what team doesn't Maholmes light up?
This will not be an easy game for the Bears or for Justin Fields to make his first start. Cleveland is a Super Bowl contender playing in front of the rabid fans in the dog pound, First Energy Stadium, one of the loudest venues in the NFL. Not surprisingly, the Bears are 7.5 point underdogs. That said, it's time to see what the kid has. Can Fields live up to all the hype of the last five months? Now we get to find out.
Where to Watch/Listen
Sunday, September 26 at 12:00pm CT on FOX, WBBM Radio (English), and WRTO Radio (Spanish)
Keys to Victory 
Here are my keys to Sunday's game. If these things happen, the Bears should have a shot to win.
Stop the running game. This will not be an easy task, the Browns have a good offensive line and a terrific set of running backs. If the Bears can slow them down and force the Browns to throw they have a chance to win this game.
Keep things simple for Justin Fields. Chicago's young quarterback has a lot on his plate entering his first career start. There's no need for an overly complicated game plan. They should lean heavily on David Montgomery and use quick passing plays to build up the Ohio State product's confidence.
Try to force Baker Mayfield into bad decisions. The Browns quarterback can make a lot of good things happen, but, he also creates unnecessary turnovers when trying to make said things happen. The Bears won last week against Cincinnati in large part due to a series of turnovers.
Encourage Fields to make plays with his feet. Nagy discouraged quarterback Mitchell Trubisky from scrambling with the goal of making him a pocket passer. It didn't work. Hopefully, the Bears head coach has learned his lesson and will not just let Fields scramble, but will encourage it. It's much better to run for a few yards, or possibly break a long run, than throw an unnecessary interception trying to force the ball downfield.
My Prediction
It's going to be an up-and-down game for Justin Fields. He's going to make some eye-opening plays but he will also make some mistakes, probably a turnover or two. The Bears should put up some points in this game, however, I don't know if they will be able to slow down the Browns offense. Look for Nick Chubb to have a big afternoon and Cleveland to win by a score of 31-24.
Official Bears Preview
Here are Bears analysts Jeff Joniak and Tom Thayer with their preview of the Bears' upcoming Week 3 matchup.