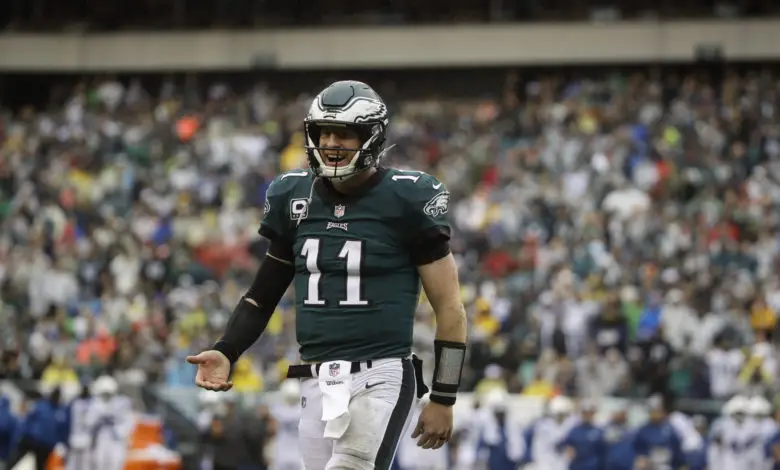 Carson Wentz Traded to Colts for Much Lower Haul Than First Anticipated
Initial reports of Philadelphia's ask for deposed starter quarterback Carson Wentz included two first-round picks and a player. The Bears were said to have been interested at that price, with Tarik Cohen and Roquan Smith even mentioned as part of the return. None of that made sense at the time and we now know it was either baseless speculation or outright foolishness.
As ESPN's Adam Schefter reported Thursday morning, the Eagles have agreed to trade Wentz to the Colts for a 2021 second-round pick and a conditional 2022 third-round pick. Needless to say, that is significantly less than two firsts and would seem to indicate the Bears were never really interested.
Philadelphia has agreed to trade Carson Wentz to the Indianapolis Colts in exchange for a 2021 third-round pick and a conditional 2022 second-round pick that could turn into a first, league sources tell @mortreport and me.

— Adam Schefter (@AdamSchefter) February 18, 2021
Or it could mean Ryan Pace completely flubbed the whole deal, which wouldn't be hard to believe given his track record with the Bears. In all likelihood, though, it means the Bears have been focused on a different target or general direction when it comes to identifying the franchise quarterback they've sorely lacked for so long.
That search could determine the futures of Pace and Matt Nagy, not that previous failures have mattered in that regard. Now, however, there's no leeway remaining even from a bumbling duo of Ted Phillips and George McCaskey that seems content to sip tea while the building burns down around them.
But hey, maybe the right fit is out there for the Bears and a new just like Wentz reuniting with Frank Reich, who was his offensive coordinator with the Eagles. Either that or Chicago gets to go through another disappointing season in which answers remain beyond the grasp of anyone in charge. At least everyone's already used to that and the Bears aren't hamstrung by a huge contract.