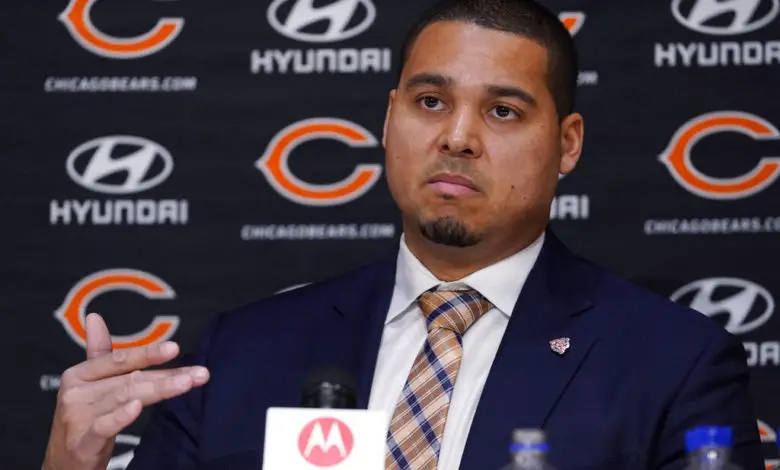 Can the Bears Rebuild Their 2022 Draft?
The Bears have made a series of trades in recent years to acquire impact talent. Quarterbacks Mitchell Trubisky, Justin Fields, and linebacker Khalil Mack all came to Chicago in exchange for multiple draft picks, including first rounders. The moves have had varying levels of success, but, the key result is the Bears are back in a rebuilding mode after an organizational house cleaning.
The Fields trade has left new GM Ryan Poles with just five picks in the 2022 draft with no first round selection. In the modern NFL, the goal for teams is always to maximize the value they have at hand. Draft picks are among the most valuable assets an organization has, therefore, the question for Chicago is: How do they maximize the return from those picks?
Obviously, the first way to get the most out of picks is to select impact players with them. The Bengals turned around their fortunes in a flash by hitting on first round choices of QB Joe Burrow and WR Ja'Marr Chase in consecutive seasons. Their Super Bowl opponent, the LA Rams, traded away early picks in pursuit of impact talent, yet, still hit mid-round picks like WR's Cooper Kupp, Van Jefferson and S Jordan Fuller among others.
Unfortunately for the Bears, their moves to sacrifice draft picks for impact players have not paid off. Which leads to another way to improve draft position and that is to trade current impact players for picks. Despite recent injury concerns, teams would likely be willing to give up some assets for Khalil Mack. Running back David Montgomery would be another potential trade chip if Chicago thanks young backup Khalil Herbert could step up.
Trading impact players is a delicate dance for team executives. Unless they're aiming for a total rebuild, getting rid of too many key players can set a team back years. A less risky option is the final method, trading down in the draft to obtain more picks.
The Patriots Bill Belichick is the king of moving down in the draft with pick swaps. The logic is simple, sacrifice a single choice in an earlier position for multiple selections in later rounds. The more chances to pick the odds of getting lucky with a player go up.
I expect the Bears to at least try to do all of these before the draft. As always, however, no matter how many picks Chicago is able to obtain the key is in the execution. Can the new management team hit on their choices and find good players? We are all about to find out.