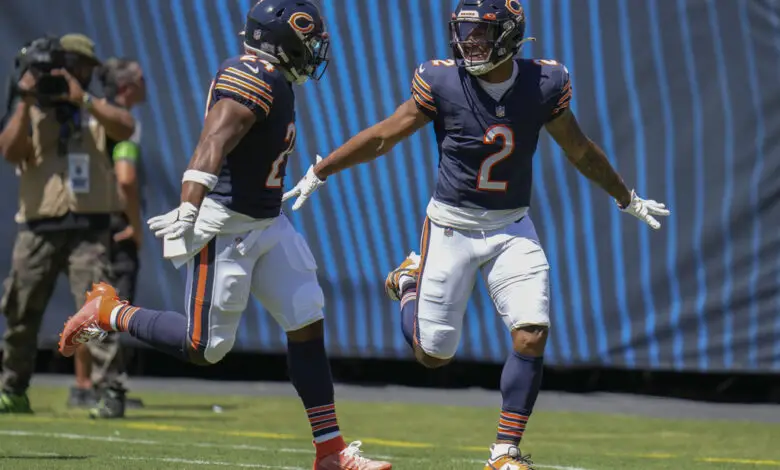 Breaking Down Bears Position Groups: Wide Receiver
We are breaking down the Bears position groups this week as the team prepares for its Week 1 battle with the Packers at Soldier Field. In this edition, we'll focus on Chicago's wide receivers. D.J. Moore, Darnell Mooney, Chase Claypool, Equanimeous St. Brown, Velus Jones, Tyler Scott, and Trent Taylor are all rostered. Dante Pettis is on the IR.
D.J. Moore
DJ Moore, YAC'ing to a Field Near You 😏 pic.twitter.com/2Ep56SoYmP

— Next Wave Bears (@NextWaveBears) September 4, 2023
Bears fans were excited when GM Ryan Poles acquired Moore from the Panthers two months before the draft. He gives Chicago the type of wide receiver the team hasn't had since Allen Robinson was in his prime. It's important to remember that the Carolina front office has somewhat soured on Moore. Ever since breaking out in 2019, it's been a steady decline for Moore as an offensive asset, particularly concerning his catch percentage and number of targets.
Targets are considered a skill statistic. Because Moore's targets dropped from 162 in 2021 to 118 in 2022, it's easy, if not lazy, to say he didn't earn them. In actuality, Moore posted a 27.7% target share, the 12th highest in the league. He also accounted for an astronomical 48% of Carolina's air yards, the best in the NFL. He'd have been a veritable monster had his catch rate not dropped to a career-low 53.4 percent.
From a high level, Moore's output in 2022 suggests he's not that much better than Mooney or Claypool, but that's inaccurate. He's a supremely talented player who could be a WR1 in the right environment, and the Bears can provide that opportunity. He'll have an elite target share and I'd be willing to bet he'll produce the way he did in 2019 and '21.
Another way to analyze Moore's production is to say he has been a victim of poor quarterback play. Justin Fields will be the best passer that Moore has worked with in his career. While the volume concerns are justified in Chicago's run-first offense, he has already displayed the ability to earn targets at a high rate. He's also been a monster at accumulating yards after the catch in practice and on his lone catch in exhibition play. Fields and Moore are good for each other, and each will make the other better this season.
Predictions: 101 receptions for 1,245  yards, and 10 touchdowns.
Darnell Mooney
Top plays of 2022 continues with. . .

Fields to Darnell "Money" Mooney!#Bears pic.twitter.com/ZQ9xEfy0ZP

— NFLFanGrid (@NFLFanGrid) August 29, 2023
Mooney doesn't have to start the season as WR1, and that's a good thing, but he might see a drop in targets with the addition of Moore. Let's lightly pencil that in, however, and here's why: Mooney had 98 targets as a WR2 as a rookie and 140 in 2021. He ate into Robinson's production because he earned the trust of Fields, and nothing has changed that.
That said, Mooney struggled as the team's top receiver (in name) in 2022. His production cratered and he dropped to 61 targets before he was injured in Week 12. The Bears ran the ball on 56% of their offensive snaps last year with total pass attempts dropping from 542 to 377. Mooney never really fit in with the team's gameplan and he'll probably struggle to get 100 targets this season. That won't sit well with anybody playing for a new contract, but Mooney's also coming off of a bad ankle injury.
What is Mooney going to do with a minuscule 5-6 targets per game? His production will probably be the same as last year.
Predictions: 52 receptions for 655 yards and four scores.
Chase Claypool
.@ChaseClaypool would not be denied

📺: #CHIvsNYJ on FOX pic.twitter.com/Bc3y66BD2Y

— Chicago Bears (@ChicagoBears) November 27, 2022
Most Bears fans have given up on Claypool but I'm not one. Most also believe Poles overpaid for Claypool and I'll agree there. Then again, the executive had no way of knowing he would be able to acquire Moore in the offseason.
It seemed like Claypool was missing in action after arriving from the Steelers, but he saw action in seven games, earning 29 targets. Yes, he was horrible, and a 51.7% drop rate shouldn't impress anybody. That's an anomaly, however, and he had a 50% end zone target share in his three starts so the coaching staff believes in his talent.
Claypool needs a niche to be successful, and as Chicago's WR3 I believe he'll settle in nicely. He's a lot more athletic than he is given credit for, is built like a tight end, and can use his speed and burst to create big plays. The Bears like him, and though he is also playing for a new contract, I could see a scenario where Poles extends Claypool instead of Mooney. He'll cost the Bears a lot less than Mooney will.
Predictions: 40 catches for 510 yards and two TDs.
Equanimeous St. Brown
Equanimeous St. Brown puts the @ChicagoBears ahead!

📺: #SFvsCHI on FOX
📱: Stream on NFL+ https://t.co/8gCtJMnwZ7 pic.twitter.com/0FuwOMlTkp

— NFL (@NFL) September 11, 2022
In full disclosure, I love watching St. Brown block. I'm not a big fan of his hands, but he leveled defenders in the open field last year, creating big plays for his teammates. Poles must be a big fan, too, because he extended St. Brown for $1.25 million. The 6-foot-5 receiver also serves as a kind of a coach on the field and helped his teammates understand Luke Getsy's offense.
St. Brown chipped in with 21 catches for 323 yards and one touchdown last year, seeing 38 targets and averaging 20.2 yards per game. He's likely to come close to that kind of production this year.
Predictions: 20 catches for 300 yards and one touchdown.
Velus Jones
Jones tallied 107 yards and one touchdown on seven receptions in 12 games last season. The 26-year-old is likely the odd man out when it comes to seeing consistent targets. Despite blazing speed, he's prone to turnovers, and will see most of his work as a kick returner or on jet sweeps in the offense.
Predictions: Eight receptions for 115 yards.
Tyler Scott
Scott broke out in 2022 as the main weapon in Cincinnati's offense and has the type of speed and explosiveness to take the top off of defenses. He's athletic and possesses great intelligence, and could end up being one of the steals of this year's draft. At 5-foot-10 and 177 pounds he's a little undersized but plays much bigger by all accounts. He reportedly ran an unofficial 4.32 40-yard dash at Cincinnati's pro day. That's elite speed.
Most analysts believe that Scott will be Mooney's long-term replacement at WR2.
Predictions: 12 receptions for 164 yards and one score.
Trent Taylor
The Bears signed Taylor after he was waived by the Bengals on cutdown day. He'll be Chicago's primary punt returner.
Predictions: Six receptions for 55 yards, and 35 punt returns for 350 yards.
Dane Pettis
Pettis was placed on injured reserve when rosters were cut to 53 players. The Bears have not provided any clarity on the nature of Pettis' injury, though he did spend most of training camp on the non-football injury list. The 27-year-old pass catcher is now in line to spend the remainder of the 2023 season on the sideline. He recorded 19 receptions on 41 targets for 245 yards and three touchdowns for the Bears in 2022.