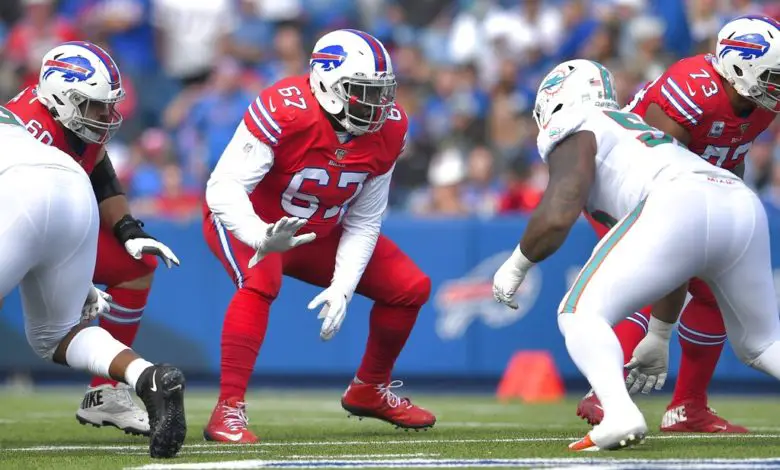 Bills Release Offensive Lineman Quinton Spain, Who Could Be a Perfect Fit for the Chicago Bears
The Buffalo Bills just announced the release of OL Quinton Spain, after Spain released a cryptic message on Twitter to his followers.
I want to say thank you to the Bills and #BillsMafia Just time for a change, but I appreciate y'all. pic.twitter.com/N8B2MTZ9EE

— Mr. Undrafted (@quinton_spain) October 21, 2020
We've released OL Quinton Spain. #BillsMafia pic.twitter.com/WANZQ152Iy

— Buffalo Bills (@BuffaloBills) October 21, 2020
Shortly after his release, Spain also sent out a Tweet that's since been deleted, stating, "Only if they knew the real reason but I'm going to leave it at that."
Spain has been out with a foot injury over the Bills' last two games. He originally signed with the Bills in 2019 and played in all 16 games that season. He has played in two games so far in 2020.
Outside of the obviously weird situation, on the surface it seems that Spain could be a perfect fit for the Chicago Bears. Following the loss of starting OL James Daniels the Bears were left to choose between Rashaad Coward and Alex Bars, both of whom were major dropoffs from Daniels.
The Bills recently re-signed Spain in March of 2020 to a deal that includes a guaranteed salary of only $1.6 million this season, a large chunk of which the Bills have already paid. There are two one-year team options attached to 2021 and 2022.
So yes, the Bears should absolutely look at Spain, particularly given the team-friendly contract.