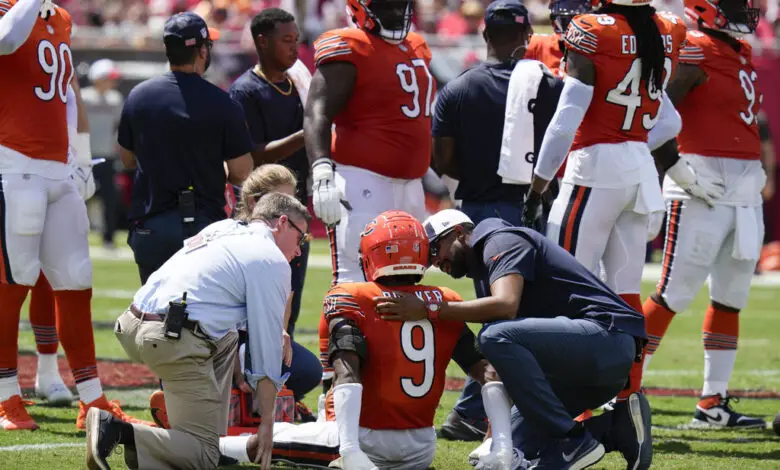 Bears Trail Bucs 13-10, Fields Struggling at Half, Jackson and Brisker Ruled Out for Remainder of Game
The Bears' depleted secondary took a big hit in the first half of today's game when Eddie Jackson (ankle) and Jaquan Brisker (illness) were ruled out.
The Bears have ruled Eddie Jackson out for the rest of the game.

— Kevin Fishbain (@kfishbain) September 17, 2023
Eddie Jackson is currently in the medical tent. Jaquan Brisker was getting treated on the sideline (they were putting water on him) and was then brought back to the locker room.

— Courtney Cronin (@CourtneyRCronin) September 17, 2023
The Bears started the game without cornerback Kyler Gordon. He had surgery on his injured hand, was placed on injured reserve, and will miss at least four games. Brisker and Jackson went down in the first quarter of today's game. Quindell Johnson and Terrell Smith are taking the bulk of the snaps in their absence.
The Bears have struggled since going vertical on their first drive. Justin Fields hit D.J. Moore on two passes for 64 yards and then wheeled it in from the one-yard line to give the Bears a 7-3 lead. Fields has been sacked four times since, and his processing looks awful, putting it mildly. His numbers don't look bad, but three of those four sacks were his fault for holding the ball too long.
Roschon Johnson has carried the ball three times for 32 yards and continues to look like the best running back on the team. Cole Kmet has two receptions for 22 yards, and Chase Claypool caught a pass, too. The defense hasn't done much to stop Baker Mayfield and Mike Evans, so the Bears are lucky they're only trailing by three points at the half.
Chicago gets the kickoff to open the second half. Fields needs to make better plays or the Bears will fall to 0-2. The defense needs a couple of stops and still hasn't recorded a takeaway this season.