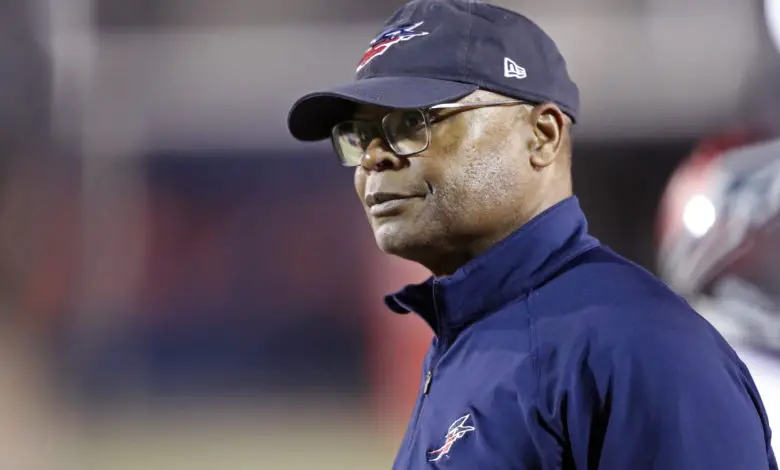 Bears Have Interviewed Legendary Mike Singletary for DC Vacancy
Add Mike Singletary to the growing list of names in the hunt for the defensive coordinator position left vacant when Chuck Pagano opted to retire at the end of the season. Adam Jahns and Kevin Fishbain of The Athletic reported Wednesday that the legendary linebacker and former 49ers head coach interviewed with the Bears earlier this week.
Singletary's most recent coaching position was at Trinity Christian Academy, where he went 1-21 over two seasons in 2018 and '19. Prior to that, he compiled a 2-6 record with the Memphis Express of the now-defunct Alliance of American Football in 2018.
He has also served as a defensive assistant for the Rams (2016), a special assistant to former teammate Leslie Frazier with the Vikings (2011-13), and as the Niners' head coach for two and a half seasons (2008-10). Prior to that, Singletary was an assistant head coach under Mike Nolan and was the team's linebackers coach. He held the latter role with the Ravens before that.
Outside of his ties to the organization, there's not a whole lot in Samurai Mike's resume that makes him seem like a good fit with the Bears. An argument could be made, however, that he's better in a more focused role than as a head coach who's got to oversee multiple aspects of the team. That notion tracks with his trademark fiery intensity, which might burn hot enough when spread too wide. Or maybe it burns too hot and causes things to boil over.
Either way, Singletary is far from the only candidate for what is a coveted role in at least a traditional sense. Colts DB coach Jonathan Gannon has interviewed with the Bears and has reportedly drawn interest from several other teams as well. Former Cardinals and Giants DC James Bettcher, a Northern Indiana native, also interviewed recently.
Bettcher apparently did some consulting for Matt Nagy in 2020 and was being eyed for the DC gig in 2018 before Vic Fangio opted to return. Both he and Gannon received heftier write-ups than Singletary in the above-linked column, which feels like a tacit way of saying that both are considered more qualified or better fits. Then again, it could be as simple as Bears fans already knowing plenty about Singletary.
Qualifications aside, hiring a former legend to come back and coach in any capacity feels like a really Bears-y move that would be aimed more at giving the fans a cookie than really trying to foster team culture. But since Ted Phillips foolishly believes the Bears already have "exactly the right football culture that all teams strive for," maybe they feel as though Singletary actually bolsters that aspect of the organization.
Look, I love Mike Singletary and I was in awe of him when he headlined a free youth football clinic at a nearby university a few years back. I got to talk with him briefly and barely managed to speak as those eyes locked in on mine. As a meatball-ass fan, nothing would be better than seeing him prowling Soldier Field's sidelines in navy and orange.
At the same time, such a move would feel a bit too much like a novelty, a little marinara to placate those meatballs and keep them from paying as much attention to the product on the field. Rather than trying to personally insult the intelligence of Bears fans, though a case could be made for that at times, I'm saying organizational leadership thinks so little of those fans that they might try to make moves aimed more at creating buzz than generating wins.
Sorry, did I say buzz? I meant money. Even though wins create more money, you've got to shake up the status quo first. That means not just taking the easy path every time.
Bringing Singletary back would certainly be the simplest way to put a monster back on the midway, but it'd sure be nice to have someone in position to create his own new set of monsters. Maybe that person is one and the same, I just wish I could trust the Bears to make the right decision one way or the other.