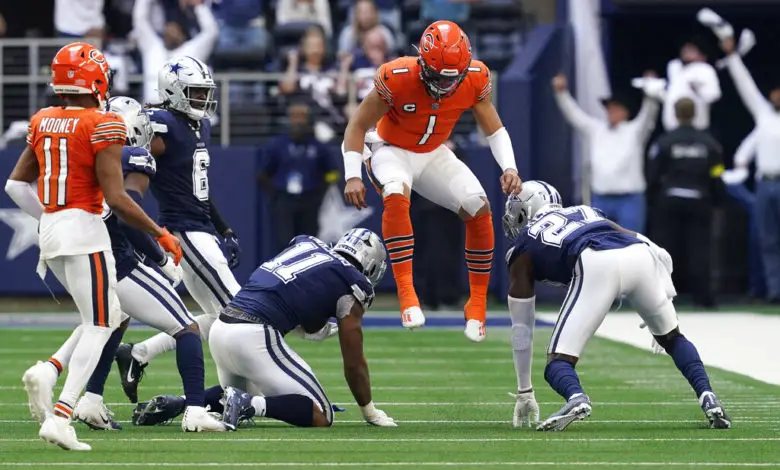 Bears Game Day: Chicago Springing Forward
Inconsistency is the mark of a rebuilding team, and it's an apt identifier of the 2022 Chicago Bears. The Monsters of the Midway are either atrocious or astonishing and though they often float between the two, it's those incredible highs and interminable lows we tend to remember. Sometimes you're the windshield, and sometimes you're the bug.
Now that we've set our clocks back an hour, which is a foolish ritual, by the way, it's nice to know the Bears are moving forward. Yes, they traded Roquan Smith and Robert Quinn. Their defense will take a big hit. Chase Claypool is an excellent addition and gives Justin Fields the best weapon of his professional career. Chicago's offense has vaulted into the 21st century over the last few weeks in case you haven't noticed. The Bears already had one of the best running games in the NFL, and their passing game is catching up. Watching Fields improve each week is a sight to behold.
Welcome to #DaBears @chaseclaypool 🙌

📺: #MIAvsCHI on CBS
📱: Stream on NFL+ https://t.co/PrdJzxB3CE pic.twitter.com/adNNekDRDg

— NFL (@NFL) November 6, 2022
The time change means the late afternoon games are now early evening contests and is an annual indicator that the playoff battle is in high gear. The Astros won the World Series last night and those baseball stragglers will transition to football today. They won't recognize the offensive juggernaut that the Bears are becoming. The rest of the country drifted back overnight, but the league's oldest franchise is springing forward.
The Bears are +165 on the money line (bet $100 straight up to win $165), the Dolphins are favored by four and a hook, and the over/under is set at 45.5. That seems a tad low. I'd take Chicago and the points and bet the over. Miami is 3-4-1 against the spread and so are the Bears.  Can Chicago win outright? We'll see.
Field Conditions
Soldier Field will play to perfect autumn conditions this afternoon. The forecast calls for a high of 62 degrees with southwest winds of 15 -25 MPH under partly cloudy skies. There is virtually no chance of rain. The weather will have little impact on today's game. The field will be fast, which could favor Miami.
Bears Trends
The Bears were down 21 points.

Khalil Herbert just put them within five.

— CHGO Bears (@CHGO_Bears) October 30, 2022
The Bears have put 62 points on the scoreboard in the last two games, beating the Patriots 33-14 two weeks ago before losing to the Cowboys 49-29 last Sunday. Chicago is averaging 355.75 yards off offense in their last four games going back to a 29-22 loss to the Vikings. The Bears have won two of their three Soldier Field contests this season and are coming off of a stretch where they've played four of their last five on the road. Khalil Herbert has 563 rushing yards and is averaging 6.2 yards each time he carries the ball. All eyes will be on Claypool and Darnell Mooney in the passing game.
Chicago's offensive renaissance has coincided with a big drop on the defensive side of the line. Playing without Smith and Quinn won't help, especially with UDFA linebacker Jack Sanborn expected to see his first significant action of the season. The Bears have surrendered 63 points in their last two tilts and will face a potent passing attack. Chicago's secondary will be tested once again today, and Kyler Gordon, Jaquan Brisker, Eddie Jackson, Kindle Vildor, and Jaylon Johnson need to answer the bell. Chicago will start four rookies on defense today. Jackson has four interceptions and Brisker leads teh team with three sacks.
Dolphins Trends
Tyreek Hill and Jaylen Waddle have combined for 1,688 receiving yards this season.

That's the most by a teammate duo in the 1st 8 games of a season in the SB era. pic.twitter.com/MrLgNhYHFl

— NFL Stats (@NFL_Stats) November 5, 2022
The Dolphins have lost three of five but come to Chicago riding a modest two-game winning streak. Tua Tagovailoa is one of the best quarterbacks in the league, and he has elite weapons in Tyreek Hill and Jaylen Waddle. The two have combined for 1,688 receiving yards and seven dimes. Miami is averaging nearly 400 yards off offense per game and is coming off a 31-27 win over the Lions. Having Tagovailoa back made all the difference as he threw for 382 yards and three scores without an interception. The Dolphins are 5-0 when Tagovailoa starts and finishes the game. I don't expect today's game to be a defensive battle.
The Dolphins have allowed the fourth-most passing yards this year. However, Chicago is a run-first team and has attempted the fewest passes this year — 160, tied with the Titans — but could attempt to open it up against the susceptible Miami secondary. Linebacker Jaelan Phillips leads the Dolphins with three sacks, but Miami acquired all-pro edge rusher Bradley Chubb at the trade deadline to boost its defense.
Why the Bears Will Win
Today's game might look like one of those old AFC run-and-shoot shows back when Ken Stabler battled Dan Fouts twice per year. If the Bears can continue their trend of rushing for over 200+ yards per game they should beat the Dolphins, especially if Fields has any success throwing the football. Believe it or not, the Bears have the league's fifth-best passing defense, allowing only 188 yards per game. But they've not faced a duo like Hill and Waddle.
Chicago's run defense has been tragic this year. The Bears have allowed an unsightly 4.99 yards per rushing play, and though Raheem Mostert is not a household name by any stretch, he should find success running the football. Mostert is averaging 56.5 yards per game and could match that well before the first half ends. If Chicago can prevent any big games, they could pull off an upset if their secondary continues to play at a high level.
Why the Dolphins Will Win
Miami has a huge advantage if the game becomes an offensive shootout. Tagovailoa might go off today, especially if the Bears deploy soft coverage schemes on their receiving corps. If Mostert has a big game, the Bears will have a tough time keeping pace with the Dolphins. Tagovailoa is not a threat to run, but if he has time to throw against a weakened front seven, Miami will score at will.
Chubb is the key to Miami's defense. The Dolphins need to contain Herbert, Fields, and David Montgomery. Chicago will run Fields 8-10 times on designed plays, and they'll get their receivers involved in the rushing game. Miami has to stop the run and force Fields to beat them in the air. That said, Fields could very well have his best passing game as a pro today. The Dolphins must prevent Chicago's runners from getting beyond their front seven. If Miami can do that, they'll beat the Bears.
Injury Reports
Bears – OL Ja'Tyre Carter is questionable (illness). He was the only Bears player who was not a full participant at practice on Friday. OL Cody Whitehair (knee) was activated off of injured reserve and Larry Borom has cleared concussion protocol. Center Lucas Patrick (toe) is on IR and cannot return until Week 12 at the earliest.
Dolphins – WR River Cracraft is out (illness). OT Austin Jackson (ankle/calf) is listed as doubtful. OT Terron Armstead, TE Tanner Conner (knee), and safety Eric Rowe (hand) are questionable. Phillips suffered a quad injury during Friday's practice and is also listed as questionable.
Predictions
Our own Sean Holland predicted a 31-24 Miami win in his analysis of this afternoon's game. He's had more success than I have this year, as I'm 2-6 straight up. I'm going to throw today's game in Chicago's favor. I expect Fields to continue his incredible progression, and I believe the Bears will show a better run defense. Tagovailoa will pick on Sanborn with a lot of quick screens, slants, and crossing patterns. But, the Miami quarterback is prone to mistakes, so Brisker, Gordon, and Jackson could have big games. I'm taking the Bears 31-24 in a reversal of Sean's pick.