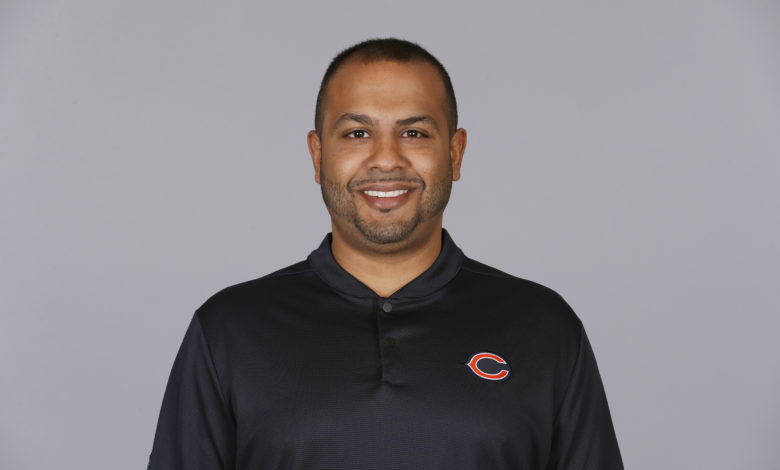 Bears Elevating Safeties Coach Sean Desai to Defensive Coordinator
After a series of interviews that included several external candidates and even the legendary Mike Singletary, the Bears are promoting safeties coach Sean Desai to defensive coordinator. Considered a brilliant football mind, Desai isn't your typical DC. He earned his undergrad in three years, holds a Ph.D. in educational administration, and has taught MBA classes at the Lake Forest Graduate School of Management.
And as Ian Rapoport tweeted, Desai may be the first person of Indian descent to become an NFL coordinator.
Big move for the #Bears: Chicago is hiring Sean Desai to be its new defensive coordinator, sources say. To my knowledge, the first person of Indian descent to become a coordinator in the NFL. They call him "Doc" for his doctorate at Temple, now they'll also call him DC.

— Ian Rapoport (@RapSheet) January 22, 2021
He's also one of the rare coaches to survive through two previous regimes, having been hired by Marc Trestman in 2013 and then serving under John Fox and now Matt Nagy. Depending on how things go next season, maybe he'll make it to four coaches.
Desai was hired as a defensive quality control coach, working alongside Mel Tucker and also assisting on special teams. He remained in that role when Vic Fangio was brought in as DC, working with defensive backs and outside linebackers while continuing to help with special teams.
Fangio actually wanted to bring Desai with him to Denver when he was hired to coach the Broncos, but the Bears refused the move and elevated Desai to safeties coach. Now he takes over Fangio's old role with a great deal of knowledge and experience from having worked under several different football minds.
I feel like this is a great move simply because Desai will bring a fresh perspective despite coming from within the organization. The defense has felt too staid and formulaic over the last few years, particularly under Pagano, and just didn't appear able to make the necessary adjustments to counter teams that figured out their weaknesses.
Now to see what the Bears do about finding a quarterback and drafting some impact players.