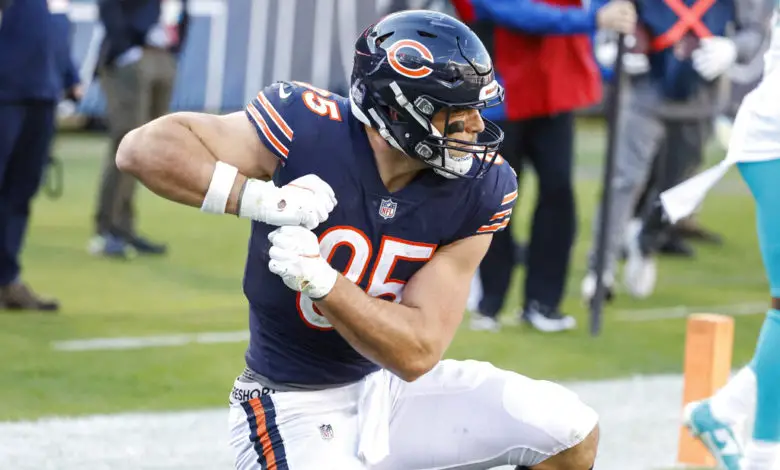 2020 Draftee Contract Extensions: Which Bears Will Get Them?
The Bear's 2019 draft class was disappointing at best, resulting in just 117 games played from five draft picks. Ryan Pace got the Bears less than a season's worth of games from three of those players. David Montgomery accounts for half of those games, 60, and he's off to Detroit. Montgomery is the only player from this class to finish his rookie contract with the Bears, and Duke Shelley is the only other player still in the league. Contract decisions loom for the 2020 draft class, and those picks were much better than 2019's. Ryan Poles will hand out contract extensions this year, but to who? His choices begin with the second-round selections.
The Bears currently have three second-round picks from the 2020 draft on their roster. The first selection was due to the Bears acquiring the 43rd overall pick from the Raiders when they traded for Khalil Mack. Kmet has had some ups and downs, but he shined for the Bears down the stretch of 2022. The tight end had nine touchdowns and caught 72% of his targets last year. His 67.6 PFF grade was good enough for 20th of all tight ends and he scored better than Evan Engram, Dawson Knox, and Mike Gesicki. Kmet should be a priority for Poles to resign, and he should receive a four or five-year contract extension.
Claypool was picked 49th overall by the Steelers in 2020, but they traded him to the Bears for a second-round pick in the middle of the 2022 season. Though not chosen by Chicago, he was drafted in 2020 and is eligible for an extension, so he makes the list. Claypool's potential extension rides on his performance this year. He didn't show the Bears much last year, but his rookie season was a showcase. The wide receiver put up over 800 yards with nine touchdowns and only started six games. Claypool deserves a three or four-year deal if he can return to that production.
I will skip ahead because this is the other obstacle Claypool faces. Mooney was a fifth-round selection by the Bears in 2020 and the most recent of the 12 1000-yard receivers in Bears' history. Mooney posted a 74.7 PFF grade in 2021 when he had 1000 yards. That's better than the 2022 grades for Mike Evans, DeAndre Hopkins, Deebo Samuel, and new teammate D.J. Moore. He's one more similar performance away from a three-year extension. Poles will have a tough decision on Claypool and Mooney, and returns by both are unlikely.
Picked right after Claypool at No. 50, Johnson was the second pick for the Bears in 2020. He's been solid in his career but should have been better. Each year he allows 56-58 percent completions when targeted and has only one interception for his career. The biggest issue for Johnson is his injury history. He's yet to play an entire season in his career. Health is a factor in extensions, and Poles may have to think twice about the corner out of Utah.
Check out how @ChicagoBears CB Jaylon Johnson (@NBAxJay1):

Disrupts the play ✔️
Demonstrated proper technique ✔️
Earned the Week 12 #NFLWayToPlay Award ✔️

Learn more about the award: https://t.co/C4uiuAwCL7 pic.twitter.com/0Ag3qiaspC

— NFL Football Operations (@NFLFootballOps) December 3, 2020
If Poles likes his performance this season, Johnson might get two years or less on an extension. A short-term deal gives the GM an early out if Johnson can't stay healthy or continues to play inconsistently. He also missed an OTA. Head coach Matt Eberflus spoke about wanting everyone at OTAs, that it's invaluable, and mentioned that Johnson was a healthy absentee. There's been a lot of chatter that his absence is about his lack of extension, but according to Johnson, that's not the case. The performance of rookies Tyrique Stevenson and Terell Smith will also factor in Poles' decision. With defensive coordinator Alan Williams apparently high on Johnson, an extension is the more likely outcome.
After Johnson, the Bears had to wait to pick in the fifth round but still found value. With the 155th pick, Chicago selected Gipson. The edge rusher has been a rotational player and broke out in 2021 with seven sacks and five forced fumbles. Those numbers dropped off in 2022, though he did have a career-high 11 quarterback hits. As mentioned on The Chicago Bears Den Podcast, Gipson was among the most double-teamed edge rushers last year. That may be the reason for the dip in production.
Matt Lombardo of Heavy.com reported the Bears and Gipson might already be on the verge of an extension. I'm not buying into that yet. Gipson is not the long-term starting solution, but a smaller contract of around six to eight million per year might keep him in Chicago. It's much more likely Gipson will find himself searching for a new team in 2024.
Vildor was also picked in the fifth round, eight selections later at 163. He has had flashes but mostly struggled in his career. Vildor has allowed over 66 percent completion each year when targeted and misses at least ten percent of his tackles. With 15 missed tackles and only nine pass breakups in his career, the Bears need more. Last year was his best year, or rather his least lousy year, as he earned a PFF grade of only 59.4. Vildor will be hitting the market after this season.
THE SEVENTH ROUND PICKS
After Vildor, Mooney was selected at 173, followed by two seventh-round selections in Arlington Hambright and Lachavious Simmons. Neither has played since 2020 and 2021, respectively. Hambright is with the Colts, and Simmons is with the Cardinals, but they may never see game action again.
Five members of the Bears' 2020 draft class are still on the team, plus Claypool. Of those six players, I'm projecting that three will come back, That's a successful attrition rate. Poles' track record with extending players hasn't been great so far, as Roquan Smith celebrated his first All-Pro and Pro-Bowl selections with the Ravens last season. The second-year GM has plenty of chances this year to prove he can keep good players in the right situation. Justin Fields will be due a large contract after the 2024 season. Poles will need to ensure he gets the right guys extended now without putting the Bears in a financial bind for the future. It might hurt to see a fan favorite like Johnson go, but a winning football team will help soften the blow.